---
Damon Wells
Written by: Angelica Reyes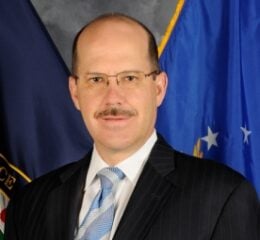 Mr. Damon R. Wells is the Director of the Office of Policy and Strategy for the National Reconnaissance Office (NRO) in Chantilly, Virginia.  In this capacity he is responsible for assisting the NRO Director in shaping and implementing policies and strategies relating to overhead reconnaissance, both within the NRO and in the broader U.S. Government (USG) and international space policy communities.
Prior to joining the NRO in 2012, he was Assistant Director for Space and Aeronautics in the White House Office of Science and Technology Policy (OSTP) in the Executive Office of the President (EOP).  In that role he developed and coordinated Administration space policies across the civil, commercial, and national security space sectors, thereby advancing key policy initiatives such as the 2010 U.S. National Space Policy and current U.S space exploration strategies.  Before moving to the White House in 2005, he was Director for Technology Policy with the U.S. Department of State's (DOS) Bureau of Economic and Business Affairs, where he led bilateral negotiations on market access for commercial satellite services, oversaw several foreign policy initiatives concerning the U.S. Global Positioning System, and supported Administration space policy development efforts.  Prior to DOS he was a senior policy analyst for the Office of Commercial Space Transportation in the Department of Transportation, where he conducted launch and satellite market forecasting activities, participated in White House space policy initiatives, and was a lead analyst for the USG's commercial launch trade negotiations with China, Russia, and Ukraine.  Before that he worked in fighter aircraft design with LTV Aerospace and Defense, specializing in analysis of aircraft loads and flying qualities using advanced flight simulation capabilities. 
Mr. Wells earned an M.S. degree in Technology and Policy from the Massachusetts Institute of Technology in 1991 and a B.S. in Aerospace Engineering from the University of Oklahoma in 1984. 
---
Posted in