---
Kristina Harrington
Written by: Angelica Reyes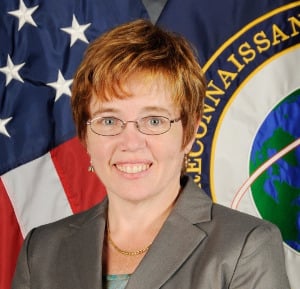 Ms. Tina Harrington, a member of the Defense Intelligence Senior Executive Service, is Director, Signals Intelligence (SIGINT) Systems Acquisition Directorate and Cadre Executive Director at the National Reconnaissance Office (NRO), Chantilly, VA.  As SIGINT Director, she leads a joint team responsible for the design, development, and acquisition of United States Signals Intelligence Space Systems for the Intelligence Community, military services, and allied partners.
Ms. Harrington grew up in Southern California and Colorado.  She began her career as a technical staff member undergraduate with The Aerospace Corporation.  She supported multiple programs in this role including Inertial Upper Stage (IUS) and MILSTAR.  Upon graduation from college in 1991, Ms. Harrington became a full-time Member of the Technical Staff (MTS).  Her initial assignments in the Engineering Technology Group included GPS and RADCAL, an experimental satellite.  She also supported several NRO programs including multiple architecture studies that determined the SIGINT path.  In 1995 she transitioned full time to the NRO where she served in a system engineering role on the development of the next generation of SIGINT systems.  She also performed as a mission thread lead, coordinating and executing all aspects of the initialization and checkout of a new satellite.  In 2002 Ms. Harrington transitioned to a management position with the Aerospace Corporation, continuing to support the NRO.
Ms. Harrington joined the Central Intelligence Agency in May 2006 assigned to the Directorate of Science and Technology, with duty in the NRO SIGINT Directorate, Low Earth Orbit System Program Office (LSPO).  Upon entry, she served as Deputy Director, Systems Engineering, LSPO.  In 2007, as part of the NRO larger transformation, Ms. Harrington stood up and directed the new LSPO Missions Department.  This role included responsibility for all payload hardware, mission analysis, payload software development, and mission engineering in support of future and ongoing initiatives.  In 2009 Ms. Harrington became the Deputy Director of LSPO where her responsibilities were program management of the acquisition and development of a state-of-the-art satellite collection system to include technical, operations, budget, schedule, and personnel. In 2010 Ms. Harrington joined the Air Force as a Defense Intelligence Senior Leader to take the role of the Chief Scientist Signals Intelligence Systems Acquisition National Reconnaissance Office where her responsibilities included leading Intelligence Community and Department of Defense studies on satellite based signals intelligence architectures for 2020 and beyond.  In 2012 Ms. Harrington was assigned as Director of the Systems Engineering Directorate, NRO, where her role was to lead the requirements, interfaces, and schedule development for the NRO future architecture to ensure that the new integrated system would accomplish mission needs.
---
Posted in