Spotlight
---
Nye Stresses JOD at STHOF
Written by: developer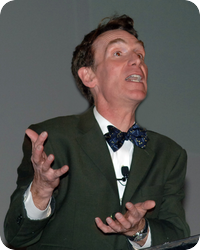 Closing out the 25th National Space Symposium at the capstone Space Technology Hall of Fame (STHOF) Dinner on April 2, science educator, activist, and science ambassador Bill Nye the Science Guy® urged the crowd to engage in space for the simple joy of discovery (or, as he put it to the acronym-loving crowd, "JOD").
In a speech that bounced among images of the sun-dial-based Mars Rover photometric calibration device he invented, a Goldilocks-inspired explanation of why Earth is "just right" for supporting life, a dissertation on why Mars' atmosphere is the color of pantyhose, frequent references to his preference for metric measures over "outdated technologies such as feet, inches and Fahrenheit," snapshots of his solar-panel-clad California home, and recollections of his early days as an engineer at Boeing, Nye demonstrated why space is important to the quality of life here on Earth and why space exploration is essential to our growth as a society.
One of his key messages involved the importance of using science – including space science – to slow the progress of global warming. His thesis is that many environmentalists get it wrong when they urge consumers to "do less." Rather, Nye says the challenge is to learn to "do more with less," and that science is the key to making that possible.
In addition to honoring science for science's sake, the dinner recognized two technologies that were inducted into the STHOF that evening: aerodynamic vehicle design originally developed for spaceflight and then modified by NASA Dryden Flight Research Center to reduce drag on large trucks; and microalgae originally studied as a food supply, oxygen source, and waste disposal catalyst for long-duration space missions that was developed by Martek Biosciences into a life-saving food supplement now found in nearly all U.S. infant formulas and in infant formulas in more than 75 other countries.
The Space Technology Hall of Fame® was created in 1988 by the Space Foundation, in cooperation with NASA, to increase public awareness of the benefits resulting from space exploration programs and to encourage further innovation. To date, the Space Foundation has inducted 61 technologies as well as honoring the organizations and individuals who transformed space technology into commercial products that improve the quality of life for all humanity. A complete list of all Space Technology Hall of Fame inducted technologies, organizations, and individuals can be found online at www.SpaceTechHallofFame.org.
This article is part of Space Watch: April 2009 (Volume: 8, Issue: 4).
---
Posted in Spotlight