Spotlight
---
Symposium Attendance an All-Time High; Underscores Strength of the Space Industry
Written by: developer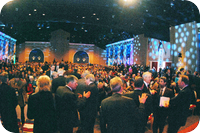 Almost 8,000 people, including speakers, attendees, exhibitors, teachers, students, volunteers, and journalists attended the four-day 25th National Space Symposium, exceeding the Space Foundation's estimates and surpassing previous years' attendance. This included:
• More than 70 influential speakers, including the Secretary of the Air Force, the Director of the National Reconnaissance Office, the Commander of Air Force Space Command, the Governor of Colorado, top space industry leaders, leading space scientists, former astronauts, futurist Alvin Toffler, astrophysicist and author Dr. Neil DeGrasse Tyson, and Bill Nye the Science Guy®;
• Representation from international space agencies and organizations, including the European Space Agency (ESA), the Japan Aerospace Exploration Agency (JAXA), the European Commission, the International Space Station, Arianespace, and the China Manned Space Flight Team, which included Taikonaut Zhai Zhigang, who performed China's first spacewalk during last year's Shenzhou 7 Mission;
• Representatives from more than 140 companies and organizations that filled two sold-out exhibit halls with state-of-the-art business displays that included an actual space capsule, stunning space video, and information on space technologies ranging from rocket design to launch capabilities to weather and avalanche prediction;
• More than 100 PreK-12 teachers and school administrators and almost 1,500 students who participated in space-related science, technology, engineering, and mathematics (STEM) workshops and presentations;
• About 200 job-seeking college students and transitioning military who attended a day-long career fair that focused on space-related jobs throughout the country;
• More than 250 volunteers from the local community, local military bases and across the country;
• More than 100 local, national, and international journalists;
• Almost 50 co-sponsor organizations, among them the founders and leaders of the nation's space industry.
"The extraordinary turnout – in terms of both the number and the caliber of attendees – validates Space Foundation research and analysis findings about the strength and resiliency of the space industry during tough economic times," said Space Foundation Chief Executive Officer Elliot Pulham.
Pulham credited the growing diversity in the space business as one of the driving factors of the symposium's success. "More than three quarters of our attendees were from the commercial space sector, which has been experiencing extraordinary growth as satellite-related technologies reach more and more mainstream consumers," said Pulham. "Plus, this year we had a much stronger international showing reflecting the growing number of nations participating in space programs and the ever-increasing global interdependence of players in the space economy."
This article is part of Space Watch: April 2009 (Volume: 8, Issue: 4).
---
Posted in Spotlight