Spotlight
---
China's Shenzhou 7 Manned Space Flight Team Makes Splash at 25th National Space Symposium
Written by: developer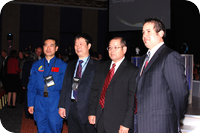 China's Shenzhou 7 Manned Space Flight Team, which packed a number of "firsts" for the Chinese space program into a single mission, traveled from China to the 25th National Space Symposium to personally accept the 2009 Space Achievement Award. The delegation led by Dr. Zhou Jianping, chief designer of the China Manned Space Program, and including Taikonaut Zhai Zhigang, attracted well-wishers and media attention everywhere they went during the four-day event. Stories about their historic mission – and their historic visit to the U.S. – appeared in print and broadcast media both in the U.S. and in China, the latter giving the Space Foundation and the National Space Symposium exposure to more than 350 million Chinese viewers.
"The Shenzhou 7 mission achieved a half-dozen landmark accomplishments, including the flight of a three-person crew, an impressive first space walk and capabilities for orbital rendezvous and docking," said Elliot Pulham, chief executive officer of the Space Foundation. "And this was only China's third manned space mission."
"Having the team here to accept the award demonstrated that the spirit of international cooperation is alive and well in the space industry," he said. "The warm welcome given to the delegation and the graciousness of the team were inspiring and encouraging."
In addition to participating in the Opening Ceremony to accept the award, the delegation attended many of the Symposium sessions, participated in meetings with Space Foundation leaders, conducted numerous media interviews, and Dr. Zhou participated in the International Space Agencies Look to The Next Space Age panel discussion on April 2 where he discussed China's current and future plans for manned space flight.
The Space Achievement Award is presented annually to an individual or organization for significant contributions in advancing the exploration, development, or utilization of space. For more details and a list of previous recipients, go to www.NationalSpaceSymposium.org/symposium-awards.
This article is part of Space Watch: April 2009 (Volume: 8, Issue: 4).
---
Posted in Spotlight