Space Foundation News
---
James and Campbell Discuss Warfighters' Perspectives of Space
Written by: developer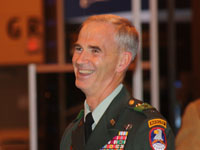 COLORADO SPRINGS, Colo. (Nov. 5, 2009) — Yesterday, two United States Strategic Command joint functional component commanders discussed their perspectives on military space assets. Lt. Gen. Larry D. James, USAF, commander, JFCC – Space, and Lt. Gen. Kevin T. Campbell, USA, commander, JFCC – Integrated Missile Defense (pictured), talked about the growing dependence on space assets for all facets of military operations. The generals spoke at a luncheon at the Strategic Space Symposium in Omaha, Neb.
James laid out four needs he has identified in his command:
Space situational awareness (SSA) that goes beyond simple tracking so that warfighters are aware of the details behind detected objects: type, ownership, configuration, etc.
A process that provides complete upfront details of everything being launched into space
An agile acquisition process
Integration of space into all levels and all aspects of planning
Campbell said that, because conflicts are fought and won at the squadron, platoon, unit, and brigade level, the troops on the ground need top notch SSA so that they can "see first, understand first, and then act." He said he needs "persistence, assuredness, responsiveness, and versatility" and he asked for architecture that is flexible enough to meet broad and rapidly changing challenges in the field.
Both James and Campbell emphasized that the end objective for both of their commands is to ensure that warfighters on the ground have the information and assets they need to effectively and safely perform their jobs. 
Presented through a Space Foundation/United States Strategic Command partnership and themed Advancing Space Capabilities and Strengthening Operations to Promote Global Security, the Nov. 2-4 Strategic Space Symposium provided a platform for discussing challenging space issues and shaping space policy, in addition to showcasing industry best practices, cutting-edge technologies, and emerging space capabilities.
Major Space Foundation Strategic Space Symposium sponsors include:
Additional Space Foundation co-sponsors include Analytical Graphics, Inc. , ATK, AVIATION WEEK; the Bellevue (Nebraska) Chamber of Commerce, Boeing, CISCO Systems, Inc., CSC, CSP Associates, Defense Systems, Intelsat General Corporation, Integral Systems, Inc., Lockheed Martin, ManTech, the NASA Nebraska Space Grant, Sterling Computers, and SpaceX.
No federal endorsement of the Space Foundation or any of its members or affiliates is intended or implied. Sponsorship agreements are with the Space Foundation for programs and materials supplied by the Space Foundation.
# # #
---
Posted in Space Foundation News