Spotlight
---
Barrage Launches 26th National Space Symposium
Written by: developer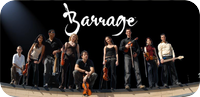 An onslaught of energetic and eclectic music will officially launch the Space Foundation's 26th National Space Symposium when the internationally acclaimed musical group Barrage takes the stage at the Opening Ceremony, sponsored by Northrop Grumman, the evening of April 12.
The Opening Ceremony  of the National Space Symposium, which runs April12-15 at The Broadmoor Hotel in Colorado Springs, Colo., is noted for excitement, entertainment, and variety - and Barrage delivers all those elements. The Calgary, Canada-based music ensemble features an international, multi-talented cast performing an eclectic mix of music, song, and dance that represents a diverse fusion of cultures and musical styles. Barrage combines contemporary world music influences, layered vocal arrangements, and pulsating rhythms with amazing energy and musical virtuosity.
"The space community is dynamic, powerful, and, certainly, a unique blend of nationalities and cultures. Our Opening Ceremony reflects the energy, excitement, and diversity of our attendees, exhibitors, and presenters," said Space Foundation Chief Executive Officer Elliot Pulham. "And, it sets the stage for a spirited, yet serious, program over the next three days."
The 26th National Space Symposium includes presentations, panels, forums, and workshops covering all aspects of space, plus special dinners and luncheons, and presentation of several prestigious space-related awards. The event's top allure for attendees, exhibitors, sponsors, and speakers - of which there were nearly 8,000 in 2009 - is as a venue for networking and conducting meaningful business. In addition to the mainstream program, the 26th edition will include a Cyber 1.0 Conference cyberspace and greatly expanded programs for young, up-and-coming New Generation space professionals.
Online registration and more information, including agenda, speakers, and exhibitors, are available at www.NationalSpaceSymposium.org/.
This article is part of Space Watch: January 2010 (Volume: 9, Issue: 1).
---
Posted in Spotlight