Spotlight
---
New Event Studies Cyberspace
Written by: developer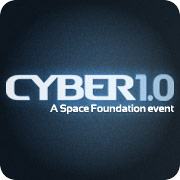 The realm of cyberspace is rapidly developing, reaching more and more into military operation and civilian life. The Space Foundation will explore this critical component to national security, commerce, and communications at Cyber 1.0, a new event that addresses cyberspace, April 12 at The Broadmoor Hotel in Colorado Springs, Colo.
Conducted by the Space Foundation, Cyber 1.0 will feature presentations by senior Air Force Space Command (AFSPC) and industry leaders, interactive displays, a policy-focused luncheon, and networking opportunities.
Cyber 1.0 Agenda
The Cyber 1.0 agenda includes:
The Cyber 1.0 Networking Breakfast, sponsored by Booz Allen Hamilton
A "cyber reality" discussion that explores the pervasive influence of the cyber domain on myriad aspects of modern life;
A look at cyberspace from a Department of Defense perspective;
A detailed overview of the Air Force's cyberspace mission;
Interactive demonstrations from AFSPC Command Units and commercial cyberspace providers;
A detailed discussion of cyber acquisition policies and procedures; and
The Cyber 1.0 Luncheon, sponsored by General Dynamics, which looks at the domain from a policy perspective.
Cyber 1.0 confirmed speakers include:
AFSPC Commander Gen. C. Robert Kehler, USAF
Space Foundation Chief Executive Officer Elliot Pulham
Deputy Assistant Secretary of Defense for Cyber and Space Policy Robert J. Butler
Joint Functional Component Command (JFCC) – Space and 14th Air Force Commander Lt. Gen. Larry James, USAF
Electronic Systems Center Commander Lt. Gen. Ted F. Bowlds, USAF
24th Air Force Commander Maj. Gen. Richard Webber, USAF
AFSPC Vice Commander Maj. Gen. Michael Basla, USAF
General Dynamics-Advanced Information Systems Director – Cyber Systems Brig. Gen. Jim Jaeger, USAF (Retired)
Headquarters Air Force Space Command Director of Requirements Brig. Gen. James E. "Woody" Haywood, USAF
IBM Global Business Services Associate Partner and Cyber Security Lead Steven P. Bucci, Ph.D.
Toffler Associate Christian C. Daehnick
Boeing Network and Space Systems Vice President of Cyber and Information Solutions, Intelligence and Security Systems Barbara Fast
McAfee, Inc., Chief Technology Officer of Global Threat Intelligence Michael Gallagher
Raytheon Vice President – Information Security Solutions Steven K. Hawkins
SpaceGroundAmalgam, LLC, President Rick J. Sanford
Intelsat General President and Co-chair President's National Security Telecommunications Advisory Committee Kay Sears
Additional speakers will be announced as they are confirmed. Registration for the limited-seating event is now open. Although 26th National Space Symposium registration is not a requirement for attending Cyber 1.0, Symposium registrants will receive a $100 discount off the $395 Cyber 1.0 fee. For information about package pricing, military rates, and how to sign up, go to www.NationalSpaceSymposium.org/Register.
This article is part of Space Watch: Februrary 2010 (Volume: 9, Issue: 2).
---
Posted in Spotlight