Spotlight
---
Symposium Gets High Marks
Written by: developer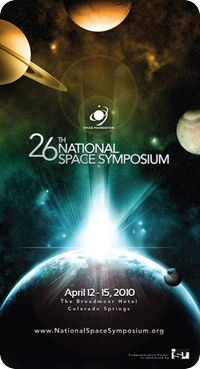 In a recent survey, more than 90 percent of repeat attendees rated the 26th National Space Symposium as good as or better than previous National Space Symposia they had attended, with the majority rating it better. 
And, 82 percent of those who had attended other conferences in the past year rated the Space Foundation's 26th National Space Symposium better than the others.
The April 12-15 event, which was held in Colorado Springs, Colo., is covered in this and the May issue of Space Watch. 
Attendees who rated various components of the event ranked them in this order, with the postive rankings ranging from 97.5 percent to 81 percent:
Customer Service
Exhibits
The Broadmoor Hotel
Colorado Springs as a Destination
Agenda
Speakers
Overall Value
The survey confirmed that the top reason a record number of people attended was the opportunity network, followed by the extraordinary agenda and speakers.
About two-thirds of the respondents had attended previous National Space Symposia. The 27th National Space Symposium will held April 11-14 at The Broadmoor Hotel in Colorado Springs.
This article is part of Space Watch: June 2010 (Volume: 9, Issue: 6).
---
Posted in Spotlight