Spotlight
---
Speed Mentoring for the Next Generation
Written by: developer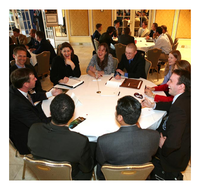 A Leadership Exchange kicked off the New Generation Initiatives for the 26th National Space Symposium April 12 at The Broadmoor Hotel in Colorado Springs, Colo. During this exercise, up-and-coming space professional met with senior industry and military space leaders to gather insight and get career tips.
Speed Mentoring
The "speed mentoring" format had groups of participants moving from table to table for brief conversations with the mentors. The participating senior mentors were:
Lori Garver, deputy administrator, NASA
Graham J. Gibbs, counsellor space affairs, Canadian Space Agency
Paul Graziani, CEO and co-founder, Analystical Graphics, Inc. (AGI).
Lon Levin, president, SkySevenVentures, and co-founder, XM Radio
Joanne Maguire, EVP, Lockheed Martin Space Systems Company
Jim Maser, president, Pratt & Whitney Rocketdyne
Clayton Mowry, president, Arianespace, Inc.
Kay Sears, president, Intelsat General Corporation, and co-chair, President's National Security Telecommunications Advisory Committee (NSTAC)
Patti Grace Smith, principal, Patti Grace Smith Consulting
Dave Taylor, president and CEO, Ball Aerospace & Technologies Corp.
Brig. Gen. David B. Warner, director, communications and information, and chief information officer, Headquarters Air Force Space Command, Peterson Air Force Base
Deborah Westphal, managing partner, Toffler Associates
What's Next For Me?
The What's Next For Me? workshop complimented the Leadership Exchange, providing up-and-coming space professionals with near-term tactical career advice from space professionals that are mid-stride in their careers. The participating panelists were:
Ron Birk, director of civil space programs, Northrop Grumman
Kevin Leclaire, managing director, ISDR Consulting
Valerie Skarupa, special assistant to the director, Operationally Responsive Space Office
Social Networking Applications
The Social Networking Applications workshop provided up-and-coming space professionals insight into how to elevate social networking applications from personal use to a strategic plan that can advance their organization's goals and initiatives. The participating panelists were:
Mike Louie, senior manager, specialized services, Hitachi Consulting
Nicole Jordan, team liaison, X Prize Foundation
The China Story
Brendan Curry, Space Foundation vice president of Washington Ops., Government Affairs, and Zong Ye, of the China Manned Space Engineering Office, shared their experiences from the Space Foundation's historic trip to China last fall. New Gen participants enjoyed pictures and stories that provided for many a first time perspective into the Chinese culture and its space goals and infrastructure.
Pictured: Speed Mentoring for New Generation space professionals at the 26th National Space Symposium
This article is part of Space Watch: June 2010 (Volume: 9, Issue: 6).
---
Posted in Spotlight