Spotlight
---
Space Foundation Goes to ILA 2010 in Berlin
Written by: developer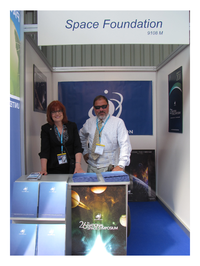 As part of its international outreach, the Space Foundation participated in ILA Berlin Air Show 2010, June 8-13, at the Schönefeld Airfield in Berlin, Germany, with a booth, sponsorship of the North American Lounge in the Space Hall, and a presentation on The Space Report by Space Foundation Chief Executive Officer Elliot Pulham. The Space Foundation was invited to participate by the German Aerospace Center (DLR) and the German Aerospace Industries Association (BDLI).
The largest meeting of the aerospace industry in Europe, ILA is also the world's oldest aviation show, dating back to 1909. Organized by BDLI and Messe Berlin GmbH, ILA is held every two years and includes a trade fair, conferences, and a display for the public covering all aspects of aviation and space flight. ILA 2010 had the largest participation in the show's 100-year history, with 1,153 exhibitors from 47 countries and approximately 235,000 visitors.
ILA's Space Day, held on June 10, was attended by some 250 delegates, including leading representatives of space agencies from the USA, Russia, Ukraine, and Kazakhstan.
According to the show organizers, contracts and business agreements with a total value of at least $16.5 billion were signed during the event.
During the event, the Space Foundation participated in a number of group events and meetings with representatives of major European space organizations, including BDLI and DLR.
"The size and scope of the Space Hall and the impressive 'Space for Earth' exhibit underscored the growing importance of space in the world aerospace industry," said Pulham. "We recognize how important it is to establish a strong Space Foundation presence wherever the leaders of the industry gather. ILA was a superb opportunity and a great experience."
The next ILA will take place from June 12-17, 2012, on a new exhibition site on the western part of the future Berlin Brandenburg International Airport (Schönefeld-West). For more information, click here.
Pictured: Space Foundation VP – Marketing and Communications Janet Stevens and CEO Elliot Pulham at the Space Foundation booth at ILA 2010
 
This article is part of Space Watch: July 2010 (Volume: 9, Issue: 7).
---
Posted in Spotlight