Spotlight
---
Register now for Cyber 1.1
Written by: developer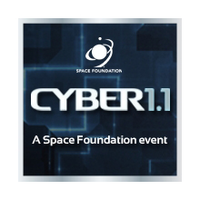 Space and cyberspace will intersect at the Space Foundation national conference, Cyber 1.1, to be held Monday, April 11, at The Broadmoor Hotel in Colorado Springs, Colo. This full-day conference takes place immediately before the official opening of the 27th National Space Symposium.
Similar to last year's Cyber 1.0 conference, but with updated information, Cyber 1.1 will focus on senior leadership views on Department of Defense and industry cyber activities, including emphasis on developing people to meet the challenges posed by cyberspace. Featured speakers and panelists will provide insight into evolving cyberspace policy issues affecting industry and the government.
The conference will also include: a networking breakfast sponsored by Booz Allen Hamilton; a policy-focused luncheon sponsored by General Dynamics; interactive demonstrations and a networking reception. Co-sponsor Northrop Grumman is providing all-day coffee service.
For information about how to register go to www.NationalSpaceSymposium.org/Register.
Cyber 1.1 confirmed speakers include:
Gen. Peter Pace, USMC (Retired), president and chief executive officer, SM&A Strategic Advisors and former chairman of the Joint Chiefs of Staff, speaking on the topic "Are We Beyond Ready to be Ready?"
Maj. Gen. Richard Webber, USAF, commander, 24th Air Force, and Chief Master Sergeant Kevin G. Slater, USAF, command chief, 24th Air Force, who will address "Cyber Warriors — Today and Tomorrow"
In addition, panel discussions will explore industry solutions and cyber preparedness. The panel "Industry Solutions: Where is the Technology Leading?" will be moderated by Christian C. Daehnick, Toffler Associates senior associate, with panelists:
John Higginbotham, executive chairman, Blue Ridge Networks
Maj. Gen. Dale W. Meyerrose, USAF (Retired), vice president and general manager, Cyber & Information Assurance, Harris Corporation
Keith Uebele, principal strategist, Intel Corporation
Kathy J. Warden, vice president, Cyber & SIGINT Systems, Northrop Grumman Information Systems
This article is part of Space Watch: March 2011 (Volume: 10, Issue: 3).
---
Posted in Spotlight