Report from Headquarters
---
Space Foundation Launches Mars Yard
Written by: developer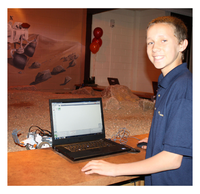 A simulated Martian terrain and robotics laboratory is the newest addition to the Space Foundation Discovery Institute in Colorado Springs. The Mars Yard, which opened in May, and Space Foundation education programs, are a critical part of the Space Foundation's mission to build a better, stronger workforce for the future to support space exploration and utilization.
The Space Foundation Discovery Institute, which opened in 2009, provides space-themed professional development and support for teachers and students from around the world. It serves as the base location for the Space Foundation's education programs and houses classrooms, a conference center, an Educator Resource Center, the AGI Space Missions Simulator and now a Mars Yard.
Work began on the lab in 2010 with the donation of the "Honeywell Mars Robotic Experience," providing robots for the simulated Martian terrain mission laboratory.
The Mars Yard was also made possible through donated time and equipment from:
Mike DeGrant of Lowell Development Partners
Robert Elliott of Robertson's Landscaping
Bill Johansen of C & C Sand and Stone Co.
Bud Bandfield of BudCo Electric
Colorado Lighthouse
B & B Countertops
Students at the adjacent Jack Swigert Aerospace Academy were the first to use the lab this spring; the entire sixth grade participated in sessions while the Mars Yard was being completed. This aerospace-themed middle school was created in 2009 through a partnership between the Space Foundation and Colorado Springs (Colo.) School District 11 (D-11). Its curriculum, which is collaboratively developed by the Space Foundation and D-11, uses space and aerospace themes and principles to teach a broad range of subjects, with focus on improving students' proficiency in science, technology, engineering, the arts and mathematics (STEAM).
Next school year, the Mars Yard will be available exclusively to D-11 students as part of the partnerships with the Space Foundation. After that, the Mars Yard will be open to other school districts along the Colorado Front Range.
Teachers enrolled in the Space Foundation Space Across the Curriculum course "Space Technologies in the Classroom" will be the first group of educators to use the Mars Yard. The course is one of five offered at the Space Foundation Discovery Institute this summer to help teachers learn how to use space themes and concepts to improve science, technology, engineering and mathematics proficiency. The courses are open to Pre-K-12 teachers.
More information about Space Foundation education programs is available at: www.spacefoundation.org/education
Pictured: Jack Swigert Aerospace Academy sixth grader Gage Gonzalez demonstrates robotics in the new Mars Yard at the Space Foundation  Discovery Institute in Colorado Springs.
This article is part of Space Watch: June 2011 (Volume: 10, Issue: 6).
---
Posted in Report from Headquarters