Report from Headquarters
---
Cyber 1.1 Covers New Ground
Written by: developer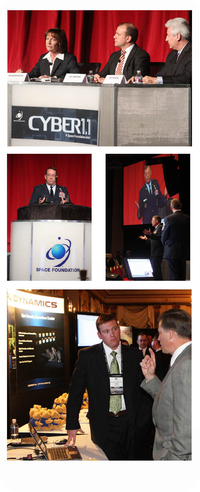 Last month, Space Watch covered the first half of the Cyber 1.1 meeting. To read that coverage, click here. Following are synopses of the rest of the agenda.
Rego Gives Air Force Perspective
Brig. Gen. Robert Rego, USAF, mobilization assistant to the commander of Air Force Global Strike Command, talked about three components of the Department of Defense's cyberspace mission: U.S. Cyber Command, AFSPC and Total Force Integration. He said USCYBERCOM has evolved from 2002, when the cyber mission was assumed by USSTRATCOM. Rego said that the DOD has many layers, but one network, and that most critical DOD computer networks have a space segment. As a result, USCYBERCOM's growing mission has a vital link to space forces. Rego listed the five USCYBERCOM "enduring principles" to win in cyberspace:
Seamless interoperability
Net speed operations
Autonomous decision logic
Common operating environment
Common operating picture
"If we're going to advance, partnerships are the way to do it," said Rego. "We need to use a whole-of-government effort." He emphasized USCYBERCOM's partner relationships with USSTRATCOM, other combatant commands, services, and agencies and private industry.
Rego reviewed AFSPC's cyber organization with four capability teams and their relationship to 24th Air Force and the headquarters. He discussed the dynamic cyber environment and the need to streamline acquisitions to provide capabilities to the warfighter rapidly.
Rego said that as a result of AFSPC adding the cyber mission, the command added 11,000 National Guard and Air Force Reserve personnel across seven combat command groups, 32 combat command squadrons, 16 engineering and installation squadrons, 94 communications and information units and four network warfare squadrons. Rego stated that it was important to maximize the ARC skills to meet growth in the cyber mission area.
Cyber Warriors Discuss Present and Future
Two leaders of the Air Force's Cyber Command – Maj. Gen. Richard E. Webber, USAF, commander, 24th Air Force, and Chief Master Sergeant Kevin G. Slater, USAF, command chief master sergeant, 24th Air Force, discussed Cyber Warriors – Today and Tomorrow.
Webber and Slater said that the battle has come to cyberspace, including individual hackers, organized crime, transnational groups and nation states. They explained the mission of the 24th Air Force, which is to "extend, operate and defend the Air Force portion of the Department of Defense network and provide full spectrum capabilities for the Joint warfighter," calling for a weapon system mindset that "treats the network as a weapon system." They emphasized that cyber operations, like land, sea, air and space, are about mission assurance, not network assurance.
Webber and Slater highlighted the Air Force cyber training construct that includes undergraduate, initial and mission qualification training along with weapons instructor courses and graduate-level cyberspace education.
Human Dimension Panel Provides New Perspectives on People and Cyberspace
Moderator Steven Kenney, business director for Toffler Associates, set the tone for the Cyber 1.1. Human Dimension panel by reminding the audience that cyberspace is a human-created domain where humans are continually changing the rules, unlike the laws of physics that control the domains of land, sea, air and space. He set the stage by discussing three subtopics:
Skill sets
Human resource processes
Organizational issues
Steven Hawkins, vice president, intelligence and information systems, Raytheon Company, told the audience, "You need to find the right cyber warrior, keeping in mind that the right person might not be the one with a four-year degree or 'look like' a defense contractor engineer. You need to find the best analytical mind to solve the problems."
Josh Hartman, principal for the Center for Strategic Space Studies, used a Taiwan scenario to get his point across that strategic interests are important to the cyber warrior. His key take-away was that the future cyber warrior will be the future special operations operator.
Jennifer Bayuk, program director, Systems Security Engineering, and an industry professor at Stevens Institute of Technology, discussed cyber security best practices and how much of what is taught today has its roots in the 1960s. She warned against underestimating how much people who grew up with digital technology take the technology for granted and she stressed that it is important that industry and education work together to make sure there are people who know how a capability works.
Demos Provide Insight
The formal presentations were followed by product/service demonstrations and a networking reception, sponsored by Raytheon. The company demonstrations included:
Blue Ridge Networks
General Dynamics
Northrop Grumman
Raytheon
Pictured: Top, Bayuk, Hartman and Hawkins discuss the Human Dimension; Middle left, Rego; Middle, right, Webber and Slater; Bottom, Cyber 1.1 technology demonstration.
This article is part of Space Watch: June 2011 (Volume: 10, Issue: 6).
---
Posted in Report from Headquarters