New Generation Initiatives
---
Speed Mentoring Propels New Generation of Space Leaders
Written by: developer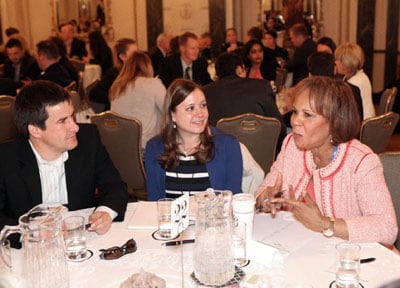 The Space Foundation's New Generation Space Leaders program provides opportunities to young space professionals that could literally change their lives. A prime example is the New Generation Leadership Exchange, also known as "speed mentoring," which kicked off the New Generation programs held throughout the 28th National Space Symposium.
Twenty-three space industry leaders sat down face-to-face with small groups of New Generation participants on April 16 to provide leadership perspective, vision for future space endeavors and valuable career advice. The mentors rotated from group to group, so that each participant spoke with an average of seven senior executive mentors.
Immediately after the Leadership Exchange, mentors and New Gen participants continued their conversations at a New Generation Networking Reception, co-sponsored by EADS.
Senior execuitive mentors included:
Anita Antenucci, managing director, Houlihan Lokey
Maj. Gen. Jim Armor, Jr., USAF, Ret., vice president, strategy and business development, ATK Spacecraft Systems & Services
Carissa Christensen, managing partner, The Tauri Group
Daniel Collins, chief operating officer, United Launch Alliance
Patricia Cooper, president, Satellite Industry Association
Rebecca Cowen-Hirsch, senior vice president, government policy, strategy & outreach, Inmarsat Global Services, Inc.
Robert Demers, vice president, Washington operations, Thuraya Telecommunications Company
Adm. James Ellis, Jr., USN, Ret., president & CEO, Institute of Nuclear Power Operations
Walter Everetts, executive director, satellite operations and SCS development, Iridium
Debra Factor-Lepor, president, DFL Space
James Free, deputy director, NASA Glenn Research Center
Gen. Lance Lord, USAF, Ret., chief executive officer, L2 Aerospace
Glenn Mahone, vice president, communications, Aerojet
James Maser, president, Pratt & Whitney Rocketdyne
Clayton Mowry, president, Arianespace, Inc.
Dr. John Paffett, chief executive officer, Surry Satellite Technology
William Parker, special advisor – international affairs, Space Foundation
Col. Myland Pride, USAF, chief, Policy and Strategy Group, National Reconnaissance Office
John Schumacher, vice president, space line of business, EADS North America
The Honorable Patricia Grace Smith, Patti Grace Smith Consulting
Linda Strine, president and chief executive officer, Infinite Links
Lt. Gen. Eugene Tattini, USAF, Ret., deputy director, NASA Jet Propulsion Laboratory
Deborah Westphal, managing director, Toffler Associates
Feedback from attendees was effusive:
"I got the most out of participating in the direct discussions with the various company leaders. It helped me realize where in the industry I could fit."
"The New Generation sessions were amazing… I cannot think of a better way to get career and leadership advice."
"We got to interact with successful people on a personal basis. (with)a small group with one mentor… we got to ask more questions."
"A good networking opportunity (that) gave us the chance to meet industry leaders and hear about other people's career paths. I would recommend them to future students."
See photos here.
Want to know about Space Foundation New Generation Initiatives? Go here.
Pictured: Speed mentoring with The Honorable Patricia Grace Smith
This article is part of Space Watch: June 2012 (Volume: 11, Issue: 6).
---
Posted in New Generation Initiatives