Education
---
2013 Space Foundation International Student Art Contest Launches Soon
Written by: developer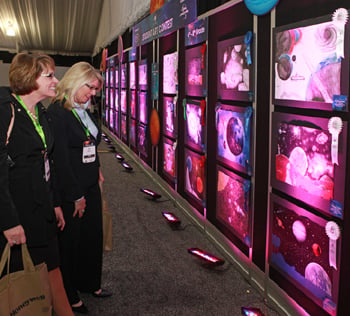 Once again, the Space Foundation invites students from around the world ages 3 to 18 to submit original artwork for its annual International Student Art Contest. The theme for 2013 is If I Were Going....
36 Winners to be Named
The contest art will be judged by a panel of artists, art professionals and instructors in three categories - drawing, painting and digital - for four different grade categories:
PreK-2nd (ages 3 - 7)
3rd-5th (ages 8 - 10)
6th-8th (ages 11 - 13)
9th-12th (ages 14 - 18)
First-, second- and third-place awards will be granted for each age group in each category for a total of 36 winners. From that group, four grand prize winners will be selected - one for each age group - and the Space Foundation graphics team will select a Space Foundation Achievement Award Winner.
Digital Submission Process Makes Entering Easier
All student entries must be sponsored and submitted by a teacher or a designated homeschool instructor. Teachers/instructors are encouraged to submit only the top artwork from their classes. Public, private and homeschool teachers may participate.
To open the program to a larger number of participants, the Space Foundation will accept initial entries digitally and will require only Winners to actually provide the physical artwork. This eliminates the cost of shipping for all except the winners and ensures that entries are received by the deadline.
Watch for More Details
Winners will be announced in early 2013. More details about prizes and sponsors along with specific entry instructions will be announced next month.
Watch the Space Foundation International Student Art Contest webpage for more information.
In 2012, student response included more than 1,500 entries from 17 U.S. states, Turkey and Pakistan. See last year's winning artwork here and read about how two pieces actually traveled to the Moon and back here.
Pictured: Winning 2012 Student Art Contest artwork displayed at the 28th National Space Symposium
This article is part of Space Watch: August 2012 (Volume: 11, Issue: 8).
---
Posted in Education