Space Foundation News
---
NASA Associate Administrator for Education Leland Melvin Visits Space Foundation
Written by: developer
A diverse background in materials science engineering, professional football and as an astronaut led Leland Melvin to his current position as NASA Associate Administrator for Education. On Friday, he visited Space Foundation headquarters and toured the soon-to-open Visitors Center.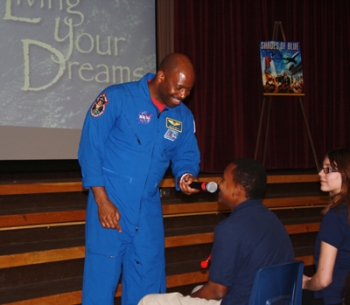 Melvin also toured the Space Foundation Discovery Institute in Colorado Springs and spoke to students at the Jack Swigert Aerospace Academy. His presentation emphasized the importance of education and the commitment it takes to make personal dreams a reality.
His educational tour was hosted by the non-profit organization Shades of Blue, which encourages students to explore careers in the aviation and aerospace fields.
Melvin joined NASA in 1989 as a research engineer and entered the astronaut corps in 1998. He flew on two Space Shuttle missions and operated the Shuttle's robotic arm on missions to the International Space Station in 2008 and 2009.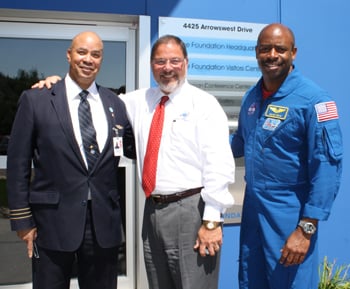 A Virginia native, Melvin was a chemistry major at the University of Richmond before being drafted by the Detroit Lions in 1986. He later earned a Master of Science degree from the University of Virginia.
Pictured above: Leland Melvin speaks to students at the Jack Swigert Aerospace Academy.
Pictured bottom from left: Shades of Blue President Willie Daniels, Space Foundation CEO Elliot Pulham and NASA Associate Administrator for Education Leland Melvin at Space Foundation world headquarters in Colorado Springs.
---
Posted in Space Foundation News