Space Foundation News
---
Space Foundation Salutes Air Force Space Command
Written by: developer
A crowd of almost 600 celebrated Air Force Space Command's birthday Friday night at The Space Foundation Presents a 30th Anniversary Salute to Air Force Space Command at The Broadmoor Hotel in Colorado Springs, Colo.
The event included a reception, dinner, awards presentations and remarks by former Air Force Space Command (AFSPC) Commander Gen. Kevin P. Chilton, USAF, Ret., who was introduced by current AFSPC Commander Gen. William L. Shelton, USAF. Space Foundation Chief Executive Officer Elliot Pulham served as master of ceremonies.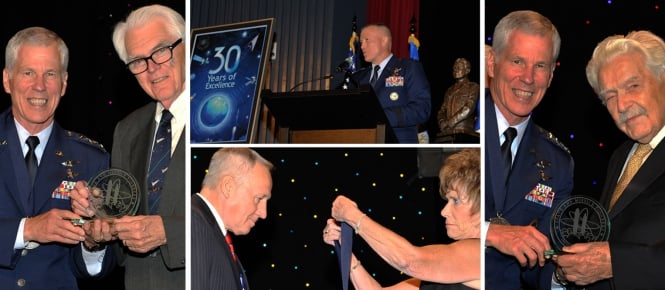 In addition to Shelton's and Chilton's remarks, highlights of the Salute included:
Introduction of a large number of past commanders, vice commanders, chief master sergeants, industry leaders and elected officials.
Presentation of the National Defense Industrial Association (NDIA) Rocky Mountain Chapter's General James V. Hartinger Award to Gen. Bruce Carlson, USAF, Ret., former director of the National Reconnaissance Office (pictured middle bottom, Carlson accepts medal from Hartinger's widow, Mickey Hartinger)
Presentation of the Air Force Association (AFA) Lance P. Sijan Chapter's General Jerome F. O'Malley Distinguished Space Leadership Award to Maj. Gen. James K. "Kevin" McLaughlin, USAF, director, space operations, deputy chief of staff for operations, plans and requirements, Headquarters U.S. (pictured, middle top, McLaughlin accepts the O'Malley Award)
Induction of Dr. Hans Mark, former secretary of the Air Force, and Col. John Paul Stapp, USAF, M.D. Ph.D., (1910-1999), who, as a career Air Force officer and flight surgeon, was a pioneer in research on the impact of "G" forces on the human body, as winners of the Air Force Space and Missile Pioneers Award (pictured, left, Shelton presents award to Mark; right, Shelton presents award to Stapp's brother, Wilford Stapp)
Introduction of the members of Air Force Space Command's Frontier Focus program
Entertainment by the U.S. Air Force Academy band, Blue Steel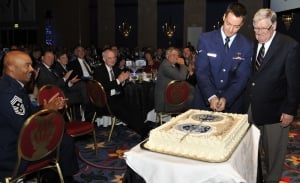 The evening ended with cutting of a ceremonial cake by Major Gen. Tim Padden, USAF, Ret., the third commander of Air Force Space Command, and Airman Samuel Macklin from the 721st Security Forces Squadron (pictured, right).
Attendees received a commemorative Air Force Space Command 30th Anniversary poster, created for AFSPC by artist Richard Green (you may know him from his spectacular National Space Symposium posters) and printed by the Space Foundation with funding from Platinum Corporate Member Northrop Grumman.
Watch for more details, including a list of table sponsors, in the October issue of Space Watch.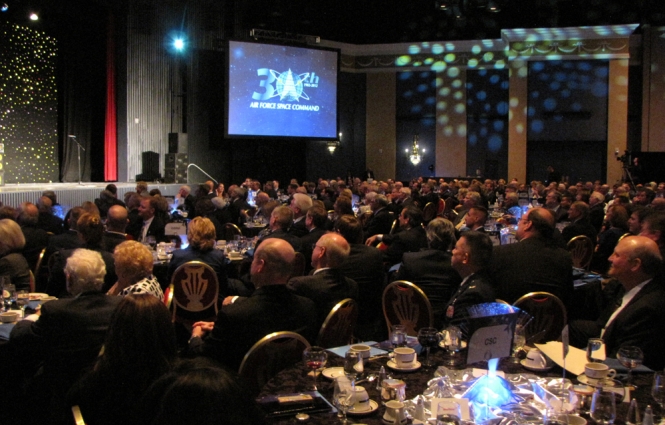 Photos courtesy of Air Force Space Command.
---
Posted in Space Foundation News