Space Foundation Press Releases
---
Buy Tickets Now for the First Space & Science Fiction Halloween Ball
Written by: developer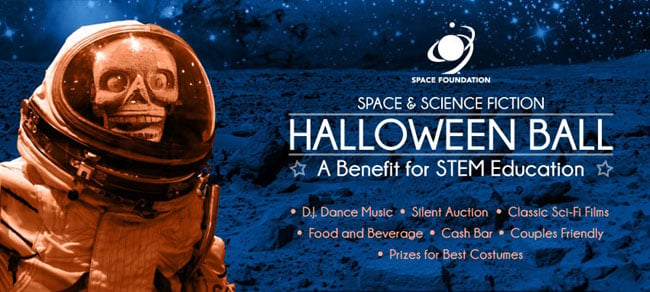 COLORADO SPRINGS, Colo. (Sept. 17, 2012) Have fantastic, futuristic Halloween fun while supporting the future education of Colorado's next generation of space scientists. Tickets are now on sale for the first Space & Science Fiction Halloween Ball at SciFiSprings.com. This volunteer fundraising event will be held at the Space Foundation world headquarters, 4425 Arrowswest Dr., Colorado Springs, Colo., on Saturday, Oct. 27, 6:30-11:30 p.m.
Tickets are $20 per person advance, $25 at the door, and proceeds will fund scholarships for area teachers and students to participate in education programs at the Space Foundation Discovery Institute and the new Space Foundation Northrop Grumman Science Center. Proceeds from the cash bar and silent auction will also go directly to Space Foundation education programs.
The ticket price covers delicious food including heavy appetizers and out-of-this-world desserts.
This is a 21-years-and-over event and prizes will be awarded for best costume in a variety of categories, including a special prize for best-dressed couple.
The event also features DJ dance music, but if dancing isn't your thing, watch classic sci-fi films in the Space Foundation's "Area 51" while enjoying complimentary popcorn and beverages.
Event sponsors are Bryan Construction Inc. and New Vista Image. Donors include Antlers Hilton, Big Mike the DJ, Bristol Brewing Company, The Broadmoor Hotel, Carlo's Bistro, Cheyenne Mountain Resort, Dinosaur Resource Center, The Famous A Steak House, P.F. Chang's, Soapbox Solutions, Spirits at Westwind, Sterling Equine Services LLC, Tucanos Brazilian Grill and Space Foundation volunteer team members.
Anyone who would like to donate prizes or items for the silent auction may contact Kaye Kerr at [email protected].
See the donor list and purchase tickets at SciFiSprings.com.
About Space Foundation Education Programs
The Space Foundation supports teachers and PreK-20 students using standards-based curriculum that uses space principles to integrate science, technology, engineering and math (STEM) into all content areas. 
See more about Space Foundation education programs at www.spacefoundation.org/education.
For specifics about the Space Foundation Northrop Grumman Science Center, featuring Science On a Sphere®, go to www.spacefoundation.org/about/locations/world-headquarters.
About the Space Foundation
The foremost advocate for all sectors of the global space industry, the Space Foundation is developing the next generation of space professionals – and building the overall technological strength of the nation – through programs that stimulate students' STEM interest and skills. A non-profit organization founded in 1983, the Space Foundation supports its mission "to advance space-related endeavors to inspire, enable and propel humanity," through its education programs; space awareness programs, including Space Certification and the Space Technology Hall of Fame® industry events, including the National Space Symposium; research and analysis products, including The Space Report: The Authoritative Guide to Global Space Activity ; and government affairs activities; and programs for teachers and students.  Visit www.SpaceFoundation.org, follow the Space Foundation on Facebook, LinkedIn and Twitter, and subscribe to Space Watch.
---
Posted in Space Foundation Press Releases