Space Foundation News
---
Baumgartner Brings Cyber Expertise to Cyber 1.3
Written by: developer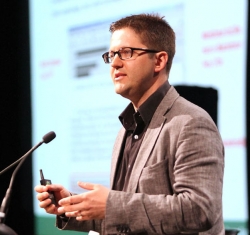 Featured Speaker Kurt Baumgartner spoke at Cyber 1.3 on Targeted Attack Disruptions in the Post-Stuxnet Era.
As senior security researcher for the Americas at Russia-based IT security firm Kaspersky Lab, Baumgartner is responsible for monitoring the malware landscape across the Americas. His remarks covered recent cyber threats, including:
Red October: an operation that lasted five years and targeted military and aerospace institutions 
MiniDuke: a malware attack that successfully infiltrated at least 59 organizations in 29 countries 
Malware attacks against the Uyghur ethnic community in China: one of first attacks to use an Android backdoor to monitor emails and chat
Baumgartner noted that there has been cyber attack activity all over the world since Stuxnet, a computer worm discovered in June 2010 that attacked Iran's nuclear facilities and, according to many, "legitimized the use of cyber weapons." He estimated that there have been more than 100,000 collateral attacks around the world, as well, and that more than 40 threats have already been identified in the first quarter of 2013.
Baumgartner said that "intrusion tolerance does not have a place within critical infrastructure," but acknowledged frequent trade-off between budgets and security measures.
See More
See video of Baumgartner's presentation here.
See photos here.
---
Posted in Space Foundation News