Space Foundation News
---
Space Foundation Holds Briefing on The Space Report
Written by: developer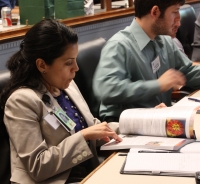 On May 1, the Space Foundation conducted a briefing on Capitol Hill for almost 50 government officials and congressional staffers to discuss the findings published in The Space Report 2013: The Authoritative Guide to Global Space Activity.
The Space Report, published annually by the Space Foundation, contains worldwide space facts and figures and is illustrated with photographs, charts and graphs. Within are myriad examples of the benefits of space exploration and utilization, the challenges facing the space sector, the opportunities for future growth and the major factors that shape the industry.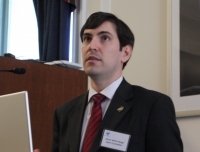 In addition, The Space Report includes an overview of each sector, easy-to-understand definitions and up-to-date information on space infrastructure, facilities, launches and programs. Data contained in the book is compiled from original research and a wide variety of public and private sources and analyzed by Space Foundation researchers. The 160-page 2013 edition was released in early April. For more information about The Space Report, click here.
Pictured, left, audience members peruse the 2013 edition; right, Space Foundation Director – Research & Analysis Micah Walter-Range explains findings.
---
Posted in Space Foundation News