New Generation Initiatives
---
Speakers Educate Young Professionals about Industry, Career Strategies
Written by: developer
During the 29th National Space Symposium, a number of speakers and panels provided young space professionals with insight into the space industry as well as helpful tips for career advancement and growth. Presentations included:
Panel Discusses Launch Vehicles and Satellites
The A Fresh Take on Old Concepts: Reusable Launch Vehicles, Smallsats and Satellite Servicing panel gave the New Generation audience a look at the growing and powerful launch and satellite sectors from a variety of viewpoints. Panelists included:

Sean Mahoney, chief operating officer, Masten Space Systems
Andrew Nelson, chief operating officer, XCOR Aerospace
John Paffett, Ph.D., director, telecommunications and navigation, Surrey Satellite Technology LTD
Maj. Gen. Craig Weston, USAF, Ret., president and chief operating officer, U.S. Space, LLC
Read a synopsis here; see photos here.
Leaders Offer Career Advice
The Good Management - The Path to Success panel featured a stellar group of space professionals who gave the audience insight into their career paths, offered tips for success and answered audeince questions.
The panelists (pictured in order, left) included:
Theresa Beech, president and chief executive officer, MetiSpace Technologies, Inc.
Clay Mowry, president, Arianespace, Inc.
The Honorable Patricia Grace Smith, former assistant administrator, Federal Aviation Administration; principal, Patti Grace Smith Consulting
Mark Valerio, vice president and general manager, military space, Lockheed Martin Space Systems Company
Read a synopsis of the tips the panel offered here; see photos here.
Sirangelo Inspires Luncheon Audience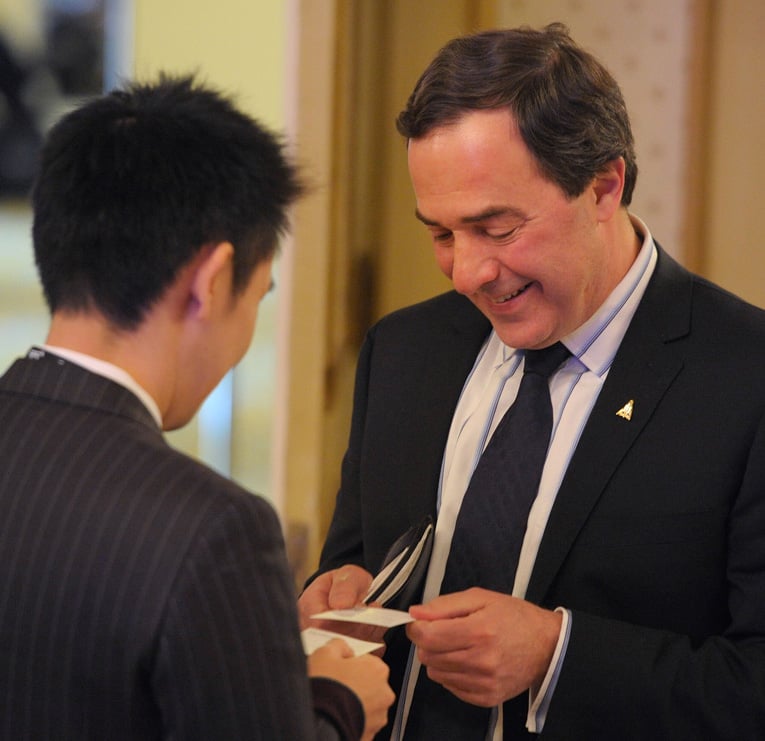 The New Generation Leadership Perspectives Luncheon on April 11, co-sponsored by Astrium, featured an inspirational speech by Mark Sirangelo, corporate vice president, Sierra Nevada Corporation Space Systems, who talked about how space has made the impossible possible.
Read a synopsis here; see photos here.
Sirangelo is pictured, right, exchanging business cards with a New Generation participant.
Reception Honors New Generation Participants
The Space Symposium closed with one final New Generation event, which was open to all Space Symposium attendees - the Reception in Celebration of the New Generation Space Leaders, co-sponsored by: Aeroflex Microelectronic Solutions, Global Technology Resources, Inc. (GTRI), Maui Economic Development Board, Space Generation Advisory Council.
This article is part of Space Watch: May 2013 (Volume: 12, Issue: 5).
---
Posted in New Generation Initiatives