Stats, Facts and Papers
---
Space Foundation Index Performance First Quarter 2013
Written by: developer
Markets grew steadily in the first quarter of 2013. The Space Foundation Services Index led the way with 8.86 percent growth, followed by the Space Foundation Index and the Space Foundation Infrastructure Index (up 6.28 percent and 3.83 percent respectively), as can be seen in Exhibit 1 below.
The S&P 500 Index outperformed all other indexes with 10.03 percent growth while the NASDAQ Composite followed at 8.21 percent, both indexes recovering from losses in the 4th quarter of 2012.

Key movers in the first quarter of 2013:
DigitalGlobe's stock price rose by 10 percent, but the company's market capitalization grew by 85 percent as a result of the acquisition of GeoEye, which was completed in late January. Correspondingly, GeoEye was removed from the Indexes.
GenCorp's market cap grew by more than 45 percent as it reported strong performance and successfully closed a $460 million debt offering that will help finance the Rocketdyne acquisition, which is subject to final approval by the FTC (expected in the first half of 2013).
Orbcomm, EADS, Viasat, Orbital Sciences and Computer Sciences Corporation all experienced strong growth of 21 percent to 33 percent in the quarter.
These infrastructure company gains were partially offset in the Space Foundation Infrastructure Index by a significant drop of almost 19 percent in Garmin's value as the company provided FY13 guidance below analyst estimates.
Liberty Media took a controlling interest in Sirius XM Radio in January, and while Sirius' share price was only slightly up, its market cap grew by approximately 25 percent due to the conversion of preferred shares into regular shares.
Harris, Iridium and Comtech were all down more than 5 percent for the quarter.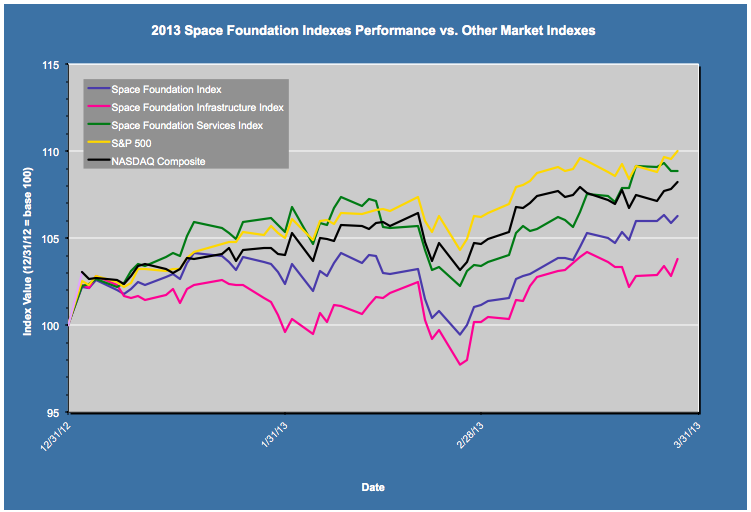 This article is part of Space Watch: June 2013 (Volume: 12, Issue: 6).
---
Posted in Stats, Facts and Papers