Stats, Facts and Papers
---
Second Quarter 2013 Index Performance
Written by: developer
The Space Foundation Infrastructure Index recorded the best quarterly performance of the year as its 15.9 percent growth outstripped all other tracked indexes, as can be seen in Exhibit 1. The main Space Foundation Index came in second, closely followed by the NASDAQ Composite, as all indexes posted growth in the quarter. Infrastructure companies in particular performed well in the third quarter and were expected to be largely insulated from the government shutdown.

Key movers in the third quarter of 2013:
Globalstar's market capitalization was up 167 percent for the quarter. Much of this tremendous growth can be attributed to news that the FCC will consider a proposed rulemaking that could allow the company to provide a "Terrestrial Low Power Service" enabling it to compete in the mobile broadband data market. Another portion of Globalstar's increase in market capitalization can be attributed to the exchange of debt and corresponding issuance of a significant amount of nonvoting stock to Thermo, the company's principal owner.
In the GPS sector, Garmin (up 25 percent) has been rising steadily on a flurry of new product announcements, while Trimble was up almost 15 percent.
Orbital was up more than 22 percent as its stock was buoyed at the end of September with the successful launch and berthing of its Cygnus supply spacecraft at the International Space Station.
Several large space infrastructure companies grew by roughly 14 to18 percent in the quarter, including ATK, Boeing, Harris, Lockheed Martin, Raytheon and Computer Sciences Corporation.
Leading the pack on the services side were Orbcomm (up more than 17 percent) and BSkyB; the latter registered almost 16 percent growth as it rebounded from a disappointing second quarter.
Iridium and Gilat bucked the trend, each dropping by more than 11 percent after lowering guidance on their 2013 financial performance. Of note, Gilat subsequently announced it will sell its SpaceNet unit that provides VSAT services.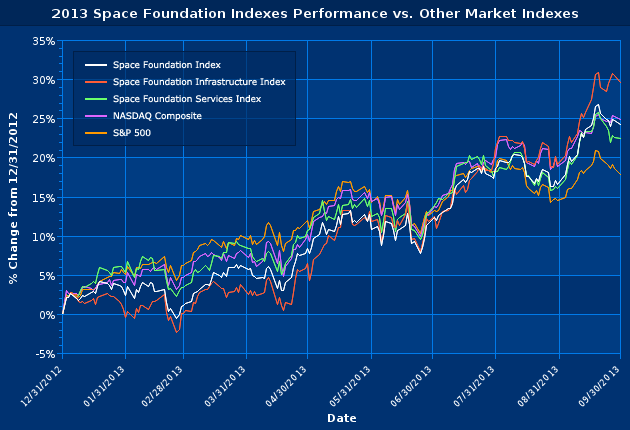 This article is part of Space Watch: November 2013 (Volume: 12, Issue: 11).
---
Posted in Stats, Facts and Papers