Stats, Facts and Papers
---
How to Order The Space Report 2013
Written by: developer
The Space Report: The Authoritative Guide to Global Space Activity is published annually by the Space Foundation, which works with a leading aerospace consulting firm, Futron Corporation, to research and analyze government and industry trends in space activity.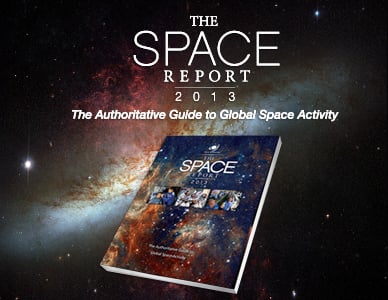 The Space Report is the definitive body of information about the global space industry, and is a valuable resource for government and business leaders, educators, financial analysts, students and space-related businesses.
The Space Report 2013 includes:
Analysis of the space economy in 2012, showing a global total of $304.31 billion in commercial revenue and government budgets, an increase of 6.7 percent from 2011
Insight into government budgets around the world, and discussion of differing patterns of budget growth or reductions
Information on global launch capabilities, successes and failures in 2012
Comparisons of trends in the U.S. space workforce to overall U.S. workforce trends, as well as trends in Europe and Japan
Analysis of common topics and different approaches in national space policies developed in recent years
Discussion of technology transfer efforts by space agencies in the United States, Europe, Japan and India and new metrics to track technology transfer
Data on workforce size for a number of international space agencies
The Space Report 2013 also includes an infographic on the inside cover of the book, showing the size of each part of the space economy. Readers will find it to be a handy reference guide for comparing different economic sectors.
Stock market analysis in The Space Report is provided by ISDR Consulting, LLC, a management consulting firm specializing in the space, satellite and technology sectors.
Visit www.TheSpaceReport.org to purchase a copy of The Space Report 2013, and learn about the events and trends shaping the space industry today.
This article is part of Space Watch: November 2013 (Volume: 12, Issue: 11).
---
Posted in Stats, Facts and Papers