Space Foundation News
---
Pulham to Receive 2014 Space Education Inspiration Award
Written by: developer
Space Foundation Chief Executive Officer Elliot Pulham will be honored in 2014 with the Space Education Inspiration Award, recognizing his support and promotion of space education and innovation, specifically in the fields of science, technology, engineering and mathematics (STEM).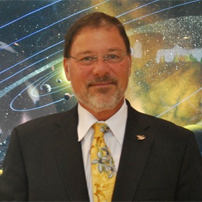 The award will be presented to Pulham by the Federation of Galaxy Explorers at the 2014 Galaxy Ball on June 6. The Galaxy Ball is held annually to honor the inspiring leaders of space education who help prepare young people for the growing demand in STEM-related careers. 
Pulham leads the Space Foundation's efforts to help build the next generation of space leaders, and improve the overall quality of education, through teacher, student and community programs that use space themes to increase students' interest and skills in STEM subjects.
Learn more about Space Foundation education programs and outreach here.
---
Posted in Space Foundation News