Cyber Initiatives
---
"We're All in this Together" at Cyber 1.4
Written by: developer
The Space Foundation began hosting its annual cyber conference in 2010, taking the initiative to address a growing need by including an entire day of cyber-related discussion in conjunction with the annual Space Symposium. Since its inception, this annual cyber conference has expanded beyond a military-focused event to include diverse players in the cyber domain.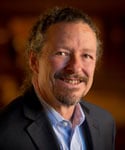 For this year's Cyber 1.4 conference on May 19 at The Broadmoor, expect more diversity than ever as new organizations join the discussion. The addition of more dynamic cyber professionals could well make this the strongest program of civil, commercial and national security cyber leaders that you will see anywhere in the world in 2014.
A fine example is the final panel discussion of the conference, "We're All in This Together: a Shared Stake in a More Secure Cyber Domain." Moderated by Dewey Houck (pictured, right), Vice President and General Manager, Electronic & Information Solutions, The Boeing Company, the panel includes (pictured below, clockwise from top left):
Jandria Alexander, Principal Director, Cyber Security Subdivision,The Aerospace Corporation
Dean Cheng, Senior Researcher, Heritage Foundation
James Garcia, Director of Cyber Services, MainNerve, LLC
Matthew Light, ES-ISAC Cybersecurity Specialist, Critical Infrastructure Protection, North American Electric Reliability Corporation
See the complete Cyber 1.4 agenda and register here.
Co-sponsors
a.i. solutions; Aeroflex Microelectronic Solutions; Aerojet Rocketdyne; Airbus Group, Inc.; Analytical Graphics, Inc. (AGI); Arianespace; ATK; Ball Aerospace & Technologies Corp.; Booz Allen Hamilton; Colorado Space Business Roundtable (CSBR); Colorado Space Coalition; EaglePicher Technologies, LLC; El Pomar Foundation; Euroconsult; Exelis; FedEx; Fisher Space Pen; Government Executive Media Group; High Impact Creative; Holland & Hart LLP; Inmarsat; Intelsat General Corporation; Launchspace; Lockheed Martin; Maui Economic Development Board (MEDB); MetiSpace Technologies, Inc.; Millennium Engineering and Integration Company; Moog Inc.; Müller-BBM VibroAkustik Systeme, Inc.; National Science Teachers Association; Northrop Grumman; Orbital Sciences Corporation; Orbital Technologies Corporation (ORBITEC); PAE; Pulsed Harmonix; Raytheon; Scitor Corporation; Secure World Foundation; SES Government Solutions; SLS and Orion Industry Team; Space Generation Advisory Council (SGAC); Space Tech Expo; SpaceX; Spincraft; SSL; Stellar Solutions,Inc.; The Boeing Company; The SI Organization; United Launch Alliance; and Universities Space Research Association (USRA); Aviation Week, SatNews Publishers; SpaceNews and TechBriefs Media Group are media partners.
This article is part of Space Watch: May 2014 Special Edition - 30th Space Symposium (Volume: 13, Issue: 5.1).
---
Posted in Cyber Initiatives