Cyber Initiatives
---
Speakers Address Cyberspace Threats and Solutions
Written by: developer
Cyber issues and threats impact us daily, including our ability to operate in and from space. The cyber domain is unlike any venue or theater of operation in the history of war or commerce. It is ever-changing, providing dangers and opportunities that will shape our future.
Cyberspace threats and solutions will be discussed at the Space Foundation's Cyber 1.4 conference on May 19 at The Broadmoor in Colorado Springs.
The full-day Cyber 1.4 conference takes place immediately before the official opening of the 30th Space Symposium. Leading presenters at Cyber 1.4 are:
Maj. Gen. James K. "Kevin" McLaughlin, USAF, Commander, 24th Air Force and Air Forces Cyber (pictured left)
Maj. Gen. Craig S. Olson, USAF, Program Executive Officer for C3I and Networks, Hanscom Air Force Base, Mass. (pictured center)
Congressman Lamar Smith (R-TX), Chairman of the United States House Committee on Science, Space and Technology (pictured right)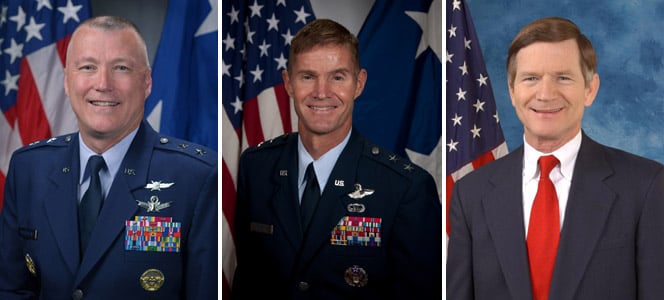 Other notable speakers at Cyber 1.4 include:
COL Burt A. Biebuyck, USA, Chief, Cyberspace Future Operations Division, NORAD and USNORTHCOM Cyberspace Operations
Kristina Harrington, Director of Signals Intelligence Directorate, National Reconnaissance Office
Col. Dean G. Hullings, USAF, Chief, Cyber Superiority Division, Air Force Space Command
Register Now
Register for either Cyber 1.4 or the 30th Space Symposium, or save money by registering for both together at www.SpaceSymposium.org.
Co-sponsors
a.i. solutions; Aeroflex Microelectronic Solutions; Aerojet Rocketdyne; Airbus Group, Inc.; Analytical Graphics, Inc. (AGI); Arianespace; ATK; Ball Aerospace & Technologies Corp.; Booz Allen Hamilton; Colorado Space Business Roundtable (CSBR); Colorado Space Coalition; EaglePicher Technologies, LLC; El Pomar Foundation; Euroconsult; Exelis; FedEx; Fisher Space Pen; Government Executive Media Group; High Impact Creative; Holland & Hart LLP; Inmarsat; Intelsat General Corporation; Launchspace; Lockheed Martin; Maui Economic Development Board (MEDB); MetiSpace Technologies, Inc.; Millennium Engineering and Integration Company; Moog Inc.; Müller-BBM VibroAkustik Systeme, Inc.; National Science Teachers Association; Northrop Grumman; Orbital Sciences Corporation; Orbital Technologies Corporation (ORBITEC); PAE; Pulsed Harmonix; Raytheon; Scitor Corporation; Secure World Foundation; SES Government Solutions; SLS and Orion Industry Team; Space Generation Advisory Council (SGAC); Space Tech Expo; SpaceX; Spincraft; SSL; Stellar Solutions,Inc.; The Boeing Company; The SI Organization; United Launch Alliance; and Universities Space Research Association (USRA); Aviation Week, SatNews Publishers; SpaceNews and TechBriefs Media Group are media partners.
This article is part of Space Watch: May 2014 Special Edition - 30th Space Symposium (Volume: 13, Issue: 5.1).
---
Posted in Cyber Initiatives