Spotlight
---
Space Foundation Spreads Word about Discovery Center at Community Event
Written by: developer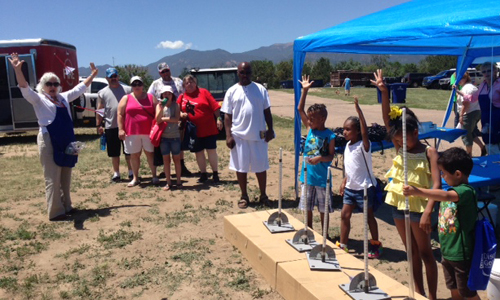 Space Foundation team members and volunteers braved the heat and the wind to deliver information about the Discovery Center and Summer of Discovery to more than 1,500 visitors at the 37th Annual Springs Spree last month. Springs Spree is a free community and music festival held every Father's Day weekend near downtown Colorado Springs.
Children and families who stopped by the Space Foundation booth were invited to participate by building and launching a straw rocket and were awarded a badge that read, "I launched my rocket at the Space Foundation Booth!" There was also an opportunity for visitors to take a photo with a cardboard astronaut and enter to win a family Discovery Passport, with valuable member benefits including unlimited admission to the Discovery Center for one year. The winner of the family Discovery Passport was Shane Davies and his family.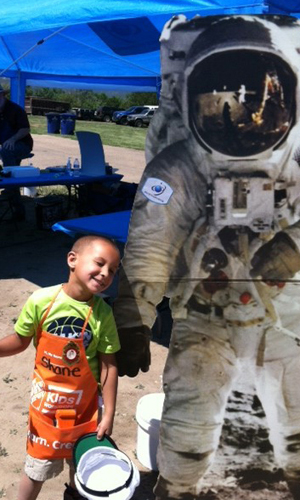 About the Space Foundation Discovery Center
The Space Foundation Discovery Center is the region's only space, science and technology attraction, and is located at 4425 Arrowswest Drive in Colorado Springs, just off of Garden of the Gods Road. The Discovery Center is open Tuesday through Saturday, 10:00 a.m. – 5:00 p.m., and is closed on holidays.
Effective July 1, Discovery Center daily admission fees are $10 for adults, $7.50 for seniors (age 65+), $7.50 for college students with I.D., $4.5 for children ages 4-17. Military fees are $5.00 for adults with I.D., and $4.00 for children ages 4-17. Children age three years and younger are admitted free.
For more information, call 719.576.8000 or visit www.SpaceFoundation.org/museum.
Picture top: While their families look on, children get ready to launch their straw rockets at the Space Foundation's booth at Springs Spree
Pictured below: Shane Davies, winner of the family Discovery Passport, poses with the cardboard astronaut
This article is part of Space Watch: July 2014 (Volume: 13, Issue: 7).
---
Posted in Spotlight