Spotlight
---
Meet Featured Volunteer Wendy Perelstein
Written by: developer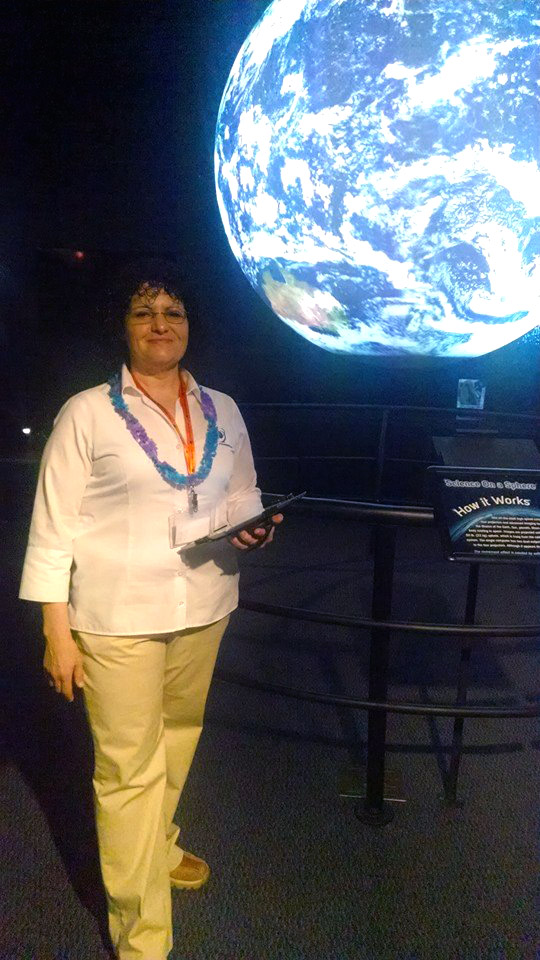 When the Space Foundation Discovery Center opened its doors in October 2012, Wendy Perelstein answered the plea for volunteers and knew right away she had found her calling.
Wendy quickly became a key member of the Space Foundation's volunteer program and has worked on a variety of projects with the education team and assisting the IT department at the annual Space Symposium. But she has made the biggest impact in the Discovery Center, where she has created presentations for Science On a Sphere (SOS). As lead docent, she trains new volunteers in the operational mechanics of the SOS and shares her tips and tricks of presenting to an audience in the special SOS room.
In addition to earning a degree in software development, Wendy helps run a neighborhood clothing and food pantry. She spends her free time researching and learning as much as possible about space exploration and planetary science. She is excited for the New Horizons mission to arrive at Pluto in 2015, and she's also closely following the testing and development of the Orion spacecraft, which is scheduled to take man to the moon, asteroids, and beyond - she hopes to Mars!
Wendy says volunteering at the Discovery Center has had a profound influence on her life and has given her the opportunity to inspire others, especially young people. She strongly encourages anyone who has an interest in space and enjoys sharing that interest to volunteer at the Discovery Center. "It's a great place to learn about new technology while brushing up on historical space-related events," she says. "Every day, there is a new opportunity to enlighten individuals about the wonders of the universe."
The Space Foundation Discovery Center gives volunteers the chance to meet people from all over the world and all walks of life with a common fascination – space. That is just one of the many benefits of volunteering.
To read more about the benefits and how you can volunteer to help further the Space Foundation's mission to advance space-related endeavors to inspire, enable and propel humanity, click here.
This article is part of Space Watch: July 2014 (Volume: 13, Issue: 7).
---
Posted in Spotlight