Space Foundation News
---
Space Foundation Hosts Viewing of WorldView-3 Launch
Written by: developer
Members of the public joined Space Foundation team members at its World Headquarters and Discovery Center in Colorado Springs in August to watch a live feed of the successful launch of DigitalGlobe's WorldView-3, the most sophisticated civilian imaging satellite to date.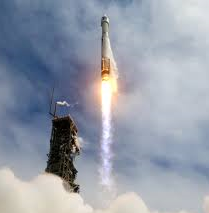 DigitalGlobe and its manufacturing partner, Ball Aerospace & Technologies Corp., are both based in Longmont, Colo.
"Space is certainly a global industry, but we are proud of the fact that this highly sophisticated satellite has been commissioned, built and launched by our partner companies right here in Colorado," said Space Foundation Chief Executive Officer Elliot Pulham. "WorldView-3 underscores the leading role Colorado plays in the space industry."
The Atlas V rocket, made by Centennial Colorado-based United Launch Alliance, carried the three-ton, 19-foot-tall WorldView-3 to an orbit 382 miles above Earth from a launch pad at Vandenberg Air Force Base, Calif.
WorldView-3 is gathering an unparalleled range of data and images, which can be used for everything from helping firefighters in remote fire zones, to assisting energy exploration companies in assessing potential resources, and determining whether isolated areas prone to extreme weather are accessible.
Learn more about Space Foundation Corporate Member companies here, and about Colorado aerospace companies here.
This article is part of Space Watch: September 2014 (Volume: 13, Issue: 9).
---
Posted in Space Foundation News