Space Foundation News
---
Steve Eisenhart Named to USGLC Colorado Advisory Committee
Written by: developer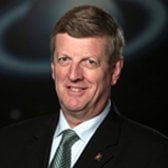 Space Foundation Senior Vice President – Strategic & International Affairs Steve Eisenhart has been named to the Colorado Advisory Committee of the U.S. Global Leadership Coalition (USGLC).
"As head of the Space Foundation's International Affairs division and a graduate of West Point, Steve brings decades of experience to the U.S. Global Leadership Coalition's Colorado Advisory Committee," said Derek Gianino, Director of National Outreach, USGLC. "He knows better than most the role that American leadership plays in promoting stability and prosperity around the world, and how our development and diplomatic programs 'open the door' for investments by American companies."
The U.S. Global Leadership Coalition's Colorado Advisory Committee is comprised of more than 65 leaders from across the state, including veterans, former Ambassadors and leading academics. Co-chaired by Senator Hank Brown and Senator Gary Hart, the Committee believes that Colorado benefits when America leads the world through investments in development and diplomacy.
Colorado is headquarters to some of the largest global brands and organizations in the world with rapidly growing international operations in emerging markets. In 2014, Colorado exported more than $8 billion in goods and services to foreign markets, and trade supported more than one in five jobs in the state, making American global leadership a strategic issue for the state.
The U.S. Global Leadership Coalition (www.usglc.org) is a broad-based influential network of 400 businesses and Non-Governmental Organizations (NGOs); national security and foreign policy experts; and business, faith-based, academic and community leaders in all 50 states who support strategic investments to elevate development and diplomacy alongside defense in order to build a better, safer world.
About Eisenhart
Eisenhart is principally responsible for the Space Foundation's global strategy and relationships with international space agencies and organizations, foreign embassies and U.S. organizations involved with global space programs. He is directly responsible for the program development and integration of key Space Foundation activities including the annual Space Symposium. He also supervises the Space Foundation's government affairs activities in the Washington, D.C., office including relationships with government agencies, other space advocacy organizations and associations and corporate interests.
Since joining the Space Foundation in 1996, Eisenhart has had a broad range of responsibilities, serving as senior vice president of strategic communications, director of communications and public affairs and communications manager. Eisenhart was a military public affairs official and is a graduate of the U.S. Military Academy at West Point.
This article is part of Space Watch: November 2015 (Volume: 14, Issue: 11).
---
Posted in Space Foundation News