Education
---
Space Foundation STEM Education Outreach in Colorado
Written by: developer
Elias Molen and Jami Sunkel, Space Education Specialists for the Space Foundation, were recently invited to speak at STEM events in Colorado Springs and Pueblo, Colo. They were chosen because of their expertise in STEM outreach and the work they do each day at the Space Foundation Discovery Center to inspire students to become engaged in science, technology, engineering and mathematics (STEM).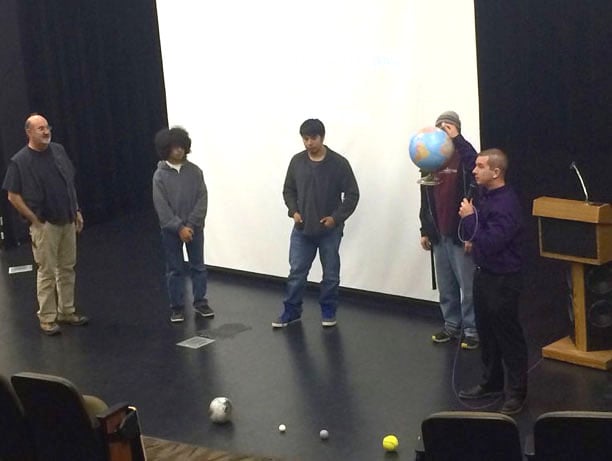 Molen was invited to be the first speaker at Pueblo Community College's STEM Center, which opened this fall with the purpose of helping connect students who are pursuing various degrees at the college with STEM-related careers.
Pueblo Community College (PCC) opened its monthly "Stars of STEM Speaker Series" with Molen's presentation "Current Events in Space Exploration." The audience included students, faculty and members of the community, and Molen discussed current space missions, including the Global Precipitation Measurement Mission, the Solar Dynamic Observatory, Rosetta and New Horizons.
Joey Mathews, PCC's Director of STEM and Technical Education, said Molen's presentation was "exactly what is needed for the community and the school to inspire STEM careers and support."
Also in November, Jami Sunkel presented a keynote speech on space exploration for future generations at James Irwin Charter Middle School (Colorado Springs) for its National Junior Honor Society's annual ceremony. Students involved in the program are those who have met high academic standards partnered with service, leadership, character and citizenship. This year's induction welcomed 50 students into the honor society.
Read the Pueblo Community College article about Elias Molen's presentation here, and read news coverage of Space Foundation Education programs and student ScholarTrips to the Discovery Center here and here.
Pictured: Elias Molen's presentation on planet scale size and distance at Pueblo Community College in November
This article is part of Space Watch: December 2015 (Volume: 14, Issue: 12).
---
Posted in Education