Education
---
App Smashing and More at the Space Foundation
Written by: developer
by Bryan DeBates, Space Foundation Senior Director – Education (pictured with students in the Space Foundation's Mars Robotics Laboratory)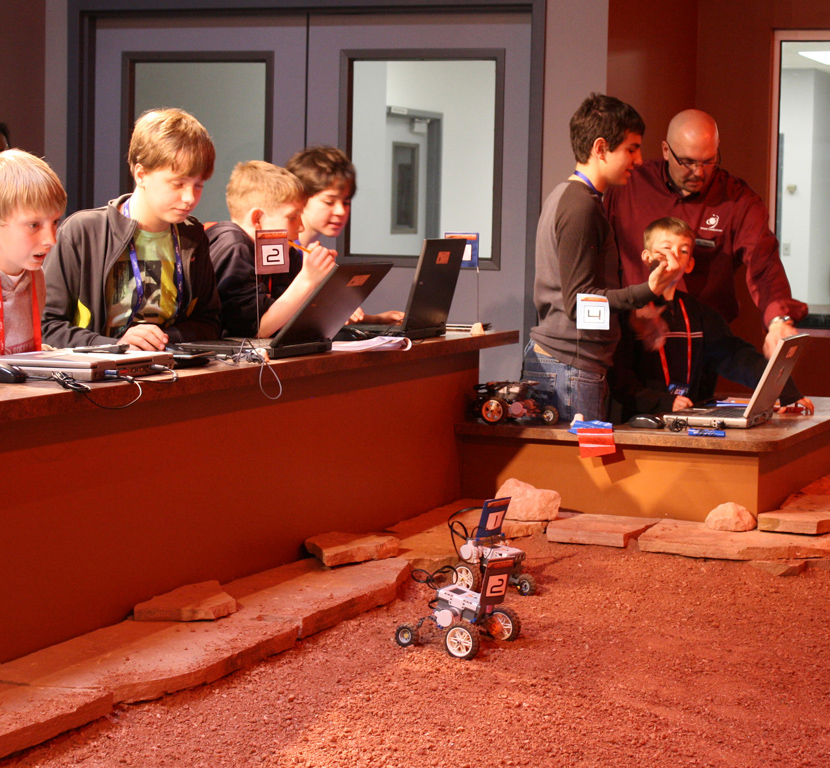 Thanks to a grant from Lockheed Martin, the Space Foundation education team is ready to start app smashing with students and teachers. Forty iPads were purchased to create an iPad lab, which will be utilized by students on field trips, as well as providing teacher professional development opportunities.
Students will learn to use apps for the slow motion camera and wind tunnel for the Mars Lander Design Challenge, and they will be able to share pictures of their exoplanet art project with friends and family. Workshops will soon be offered for teachers to help them harness the full potential of the iPad tablets in their classrooms through App Smashing, Mission Mashups and iMovies.
Another exciting development, thanks to the Lockheed Martin grant, will be the completion of the Mars Robotics Laboratory. Hundreds of students have already performed missions in the lab, but after the completion of this phase, students will experience Mars like never before. The completion of this phase will bring in video cameras for each team's mission commander to monitor and run the mission remotely from our Mission Control, plus two-way radios from which the mission commander can talk to the rover driver. The lab will also get a new look so that students will feel like they are in a real habitat on Mars looking out on the surface and driving their rovers. Other enhancements will include cameras for the rovers, as well as the addition of iBeacons for the missions.
This article is part of Space Watch: December 2015 (Volume: 14, Issue: 12).
---
Posted in Education