Global Space
---
Judges Announced for 2017 International Student Art Contest
Written by: developer
The goal with selecting judges for the Space Foundation's annual International Student Art Contest is to choose talented, trained, professional artists from diverse backgrounds who can contribute various perspectives to the daunting task of sorting through thousands of artwork entries.
Artwork submitted for the 2017 contest will be reviewed by a panel of outstanding artists, including:
Susanne Arens, President, Crystal Peak Design and Art Director, Photographer, Fine Artist, College Instructor, Executive Director of the Pikes Peak Studio Tour, Board member for Springs Recovery Connection, Colorado Springs, Colorado, USA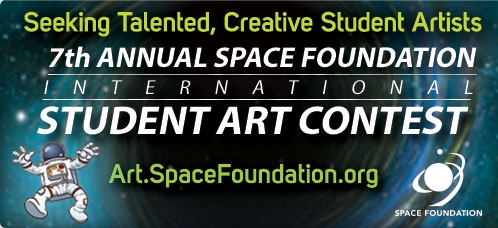 Lourn Eidal, Assistant Art Director, Crystal Peak Design
Colorado Springs, Colorado, USA
Richard Green, Senior Video Game and Aerospace Artist/Designer
Seattle, Washington, USA
Nicole Stott, accomplished space artist and former NASA astronaut. Worked on the International Space Station in 2009 and 2011; supports several non-profit organizations focused on science, technology, engineering, arts and mathematics (STEAM)
Joe Vinton, digital artist, Renderosity Artist of the Year
Burton, Trent, United Kingdom
Hans Wolfe, middle and upper school visual arts, Visiting Artist Coordinator, Art Department Chair, The Colorado Springs School
Colorado Springs, Colorado, USA
The 2017 art contest theme is "Space Through My Eyes…" and artwork will be accepted until noon universal time (12:00 UTC), Nov. 14, 2016. Prizes will be awarded by age category and the winners notified in January 2017.
Student artwork must be submitted online by the student's teacher, parent or legal guardian, 18 years or older. Homeschool students are also invited to participate. The Space Foundation will award a total of 25 winners — first, second and third place for each age category and a Space Foundation Achievement Award.
The 2017 International Student Art Contest is co-sponsored by Eagle Eyes®, makers of advanced optical technologies. Eagle Eyes is also a Lifetime Space Certification program partner and 2010 Space Technology Hall of Fame Inductee.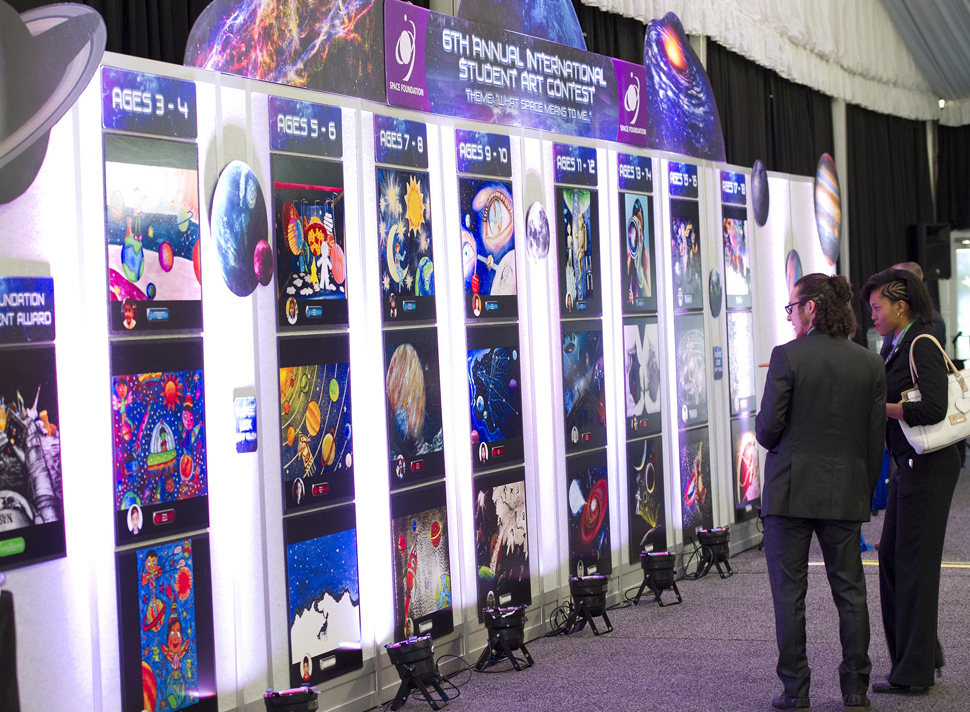 Artwork Media/Format
Drawing
Painting
Mixed media
Digital art
Eight Age Categories
3 – 4 years
5 – 6 years
7 – 8 years
9 – 10 years
11 – 12 years
13 – 14 years
15 – 16 years
17 – 18 years
Prizes and Exposure
All winners receive an art kit, Eagle Eyes® sunglasses, ribbon and a certificate
Winning entries will be displayed on the Space Foundation website, social media and at the 33rd Space Symposium, where space professionals from around the world will have viewing opportunities
Winning artwork will later be displayed at the Space Foundation World Headquarters and Discovery Center, located in Colorado Springs, Colorado, USA
All winners receive international exposure – digital images of past winners' artwork have been sent to the International Space Station
How to Enter
All artwork will be submitted electronically at Art.SpaceFoundation.org by a teacher, parent or legal guardian, 18 years or older. For general contest questions, contact the Space Foundation at [email protected]. Due to the high volume of entries and limited resources, we are unable to contact each participant regarding contest status and winners. Please watch Art.SpaceFoundation.org for details and announcements.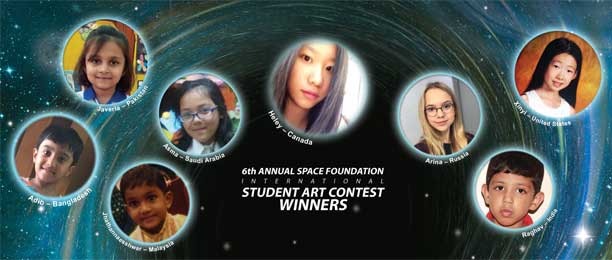 This article is part of Space Watch: October 2016 (Volume: 15, Issue: 10).
---
Posted in Global Space