Space Foundation News
---
Summer of Discovery Opens at Space Foundation Discovery Center
Written by: Space Foundation Editorial Team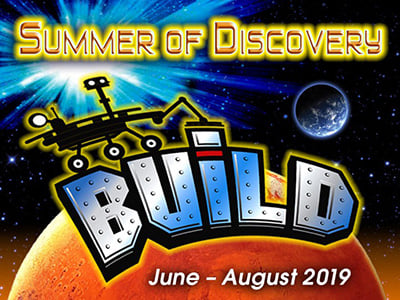 A reception for Passport Members and invited guests last night launched the opening of the Space Foundation Discovery Center's annual Summer of Discovery program. This summer's theme is Build! and the activities and exhibits help visitors imagine what it would be like to live and explore on Mars by tinkering, building and experimenting.
Summer of Discovery is sponsored by the City of Colorado Springs. Read more about Build! in the Colorado Springs Gazette here.
Activities at the Discover Center this summer will also include a special celebration on Saturday, July 20, of the 50th anniversary of the Apollo 11 Moon landing. The celebration, sponsored by Raytheon, will include "Brunch with an Astronaut," featuring former NASA astronaut Lt. Col. Duane "Digger" Carey, USAF (Ret.).
Build! is open to the public Tuesday through Saturday, from 10:00 a.m. to 4:00 p.m., at the Discovery Center, 4425 Arrowswest Drive, Colorado Springs. For pricing and other visitor information, please visit www.discoverspace.org or call the Space Foundation at 719.576.8000.
Saturday, June 1, 2019
---
Posted in Space Foundation News