Space Foundation News
---
World Space Week Canadian Reception Celebrates Space Foundation Art Contest
Written by: Space Foundation Editorial Team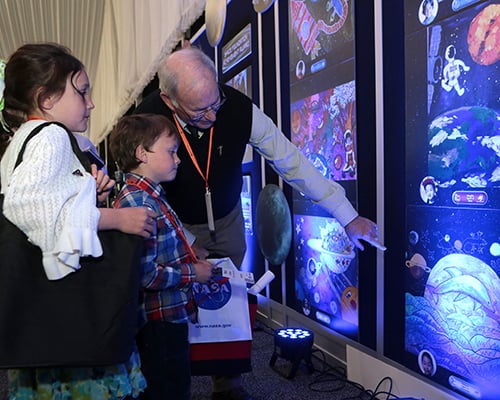 The Space Foundation has a full schedule of activities planned for the global celebration of World Space Week, held each year from Oct. 4 – 10.  From a new spacesuit exhibit at its Discovery Center in Colorado Springs to astronaut presentations for school children during World Space Week, the Space Foundation is heralding the accomplishments and benefits of space exploration.
New this year for World Space Week is an event celebrating the 10th anniversary of the Space Foundation's annual International Student Art Contest. A reception will be held at the Canadian Embassy in Washington, D.C., on Oct. 8 featuring an exhibit of Canadian student artwork submitted to the contest.
The Space Foundation introduced its International Student Art Contest in 2011 with the goal of inspiring students ages 3 to 18 to learn more about space and to use their talents to depict how they envision the wonders of the galaxy.
The contest was created by the Space Foundation's Director of Marketing, Nancy Reed, who, as an artist herself, understood the excitement of creating original artwork for competition in a contest format.
"It has been fascinating to see the contest grow and take shape over the years. Most of all, and most rewarding, is the realization that each art entry received from around the world, involves a budding, hopeful, and talented student artist, with creative aspirations and hope that their artwork will be a winner. It is also inspiring to witness how art transcends politics, cultural differences, and ideology. It is obvious that children universally love space and our planet, no matter where they are from," said Reed.
What started as a modest art contest with 150 entries, mostly from the Space Foundation's home state of Colorado, quickly grew under Reed's direction into an international contest with nearly 33,000 entries from 61 countries.
The annual art contest opens in August each year, with a call for entries, which are accepted until November. There is a featured theme, multiple age categories for students and various types of media categories, such as crayon, pastel, paint, watercolor, pencil, and digital design.
The Space Foundation uses a multi-tiered judging process to make the final selections. Four to six judges are selected each year for their expertise in the areas of children's art, commercial art, fine art, and space art.
Winning entries are announced in January, and winning artwork is featured in press releases, on the Space Foundation website, on a wall display at the Space Foundation's annual Space Symposium, held each spring at The Broadmoor in Colorado Springs, Colo., and on a wall display at the Space Foundation Discovery Center in Colorado Springs.
The Space Foundation is now accepting student artwork for its 2020 contest theme, "How Exploring Space Improves Life on Earth." The 2020 contest is co-sponsored by Earth Observing System.
Click here for submission details and to see past winning artwork.
# # #
---
Posted in Space Foundation News