Space Foundation Press Releases
---
Peanuts and Space Foundation Offer Free STEM Lesson Plans
Written by: Space Foundation Editorial Team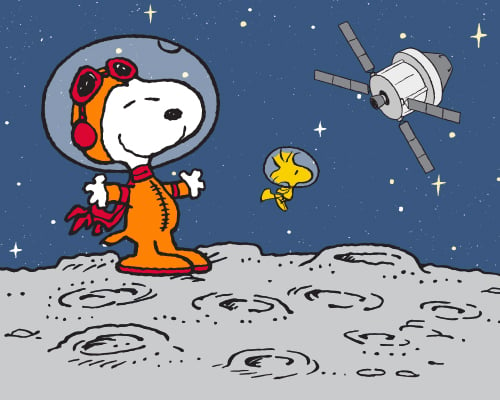 COLORADO SPRINGS, Colo. (Oct. 10, 2019) – The Space Foundation of Colorado Springs has collaborated with Peanuts to provide free Snoopy-themed lesson plans to improve students' skills in science, technology, engineering, and mathematics (STEM).
The new lesson plans coincide with the release of two Peanuts books from Simon & Schuster, Shoot for the Moon, Snoopy! and Snoopy, First Beagle on the Moon!
In announcing the newly formed relationship and the release of these materials, Space Foundation CEO Tom Zelibor offered, "This partnership allows the Space Foundation and Peanuts to provide formal and informal lesson plans and content to educators for hands-on and immersive activities, which are fun and exciting for all students."
The Space Foundation's accredited educators created the lesson plans using artwork created by cartoonist Charles M. Schulz which feature a beagle named Snoopy as an astronaut on the Moon. Snoopy's connection to NASA and the American space program started during the Apollo era, when NASA asked Schulz for permission to use America's favorite beagle as their mascot for mission safety, a tradition and commitment that continues today.
With the recent 50th anniversary of the Apollo 11 mission to the Moon, Snoopy the Astronaut is back, helping today's students become the space leaders of the future.
The Space Foundation is working with its members, partners, and supporters in building the next generation of space explorers, innovators, and entrepreneurs. Those efforts include enhancing the overall quality of education through teacher, student, and community programs that use space themes to increase students' interest and skills in STEM disciplines. Learn more about Space Foundation STEM education outreach at https://www.discoverspace.org/education
Educators may access the free lesson plans at https://www.discoverspace.org/stem-lesson-plans
About the Space Foundation
Founded in 1983, the Space Foundation is a 501(c)(3) nonprofit and the world's premier organization to inspire, educate, connect, and advocate on behalf of the global space community. It is a leader in space awareness activities, educational programs, and major industry events, including the annual Space Symposium. Space Foundation headquarters is in Colorado Springs, Colo., USA, and has a public Discovery Center, including El Pomar Space Gallery, Northrop Grumman Science Center featuring Science On a Sphere®, and the Lockheed Martin Space Education Center. The Space Foundation has a Washington, D.C., office, as well as field representatives in Houston and on the Florida Space Coast. It publishes The Space Report: The Authoritative Guide to Global Space Activity, and through its Space Certification™ and Space Technology Hall of Fame® programs, recognizes space-based innovations that have been adapted to improve life on Earth. Visit both websites — www.SpaceFoundation.org and DiscoverSpace.org — and follow on Facebook, Twitter, Instagram, LinkedIn, and YouTube.
About Peanuts
Charles M. Schulz first introduced the world to the Peanuts characters in 1950, when the Peanuts comic strip debuted in seven newspapers. Since then, Charlie Brown, Snoopy and the rest of the Peanuts gang have made an indelible mark on popular culture. The new series Snoopy in Space will be launching on AppleTV+ on November 1, 2019. Peanuts animated specials and series air on major networks and streaming services, including ABC, Cartoon Network and Boomerang in the U.S., Family Channel in Canada, and the WildBrain Spark network on YouTube. Fans also enjoy Peanuts through thousands of consumer products around the world, amusement parks attractions, cultural events, social media, and a daily comic strip available in all formats from traditional to digital. In 2018, Peanuts partnered with NASA on a multi-year Space Act Agreement designed to inspire a passion for space exploration and STEM among the next generation of students. The Peanuts characters and related intellectual property are 41% owned by WildBrain (TSX: DHX, NASDAQ: DHXM), 39% owned by Sony Music Entertainment (Japan) Inc., and 20% owned by family of Charles M. Schulz.
#  #  #
Space Foundation contact:
Carol Hively, Director – Public Relations & Team Communications
[email protected]
---
Posted in Space Foundation Press Releases