Space Foundation News
---
Space Foundation Remembers Apollo Astronaut Al Worden
Written by: Space Foundation Editorial Team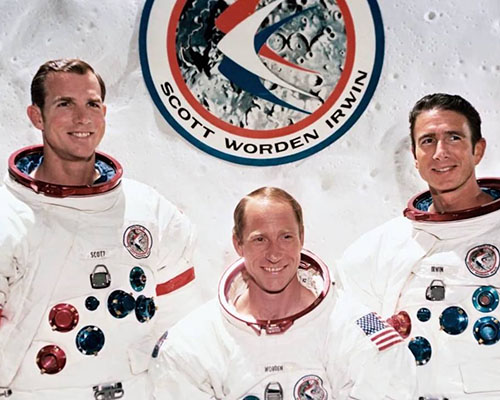 Retired Apollo 15 astronaut Col. Al Worden, center, passed away March 18, 2020
COLORADO SPRINGS, Colo. (March 18, 2020) — The Space Foundation commented today on the death of Apollo astronaut Alfred Merrill "Al" Worden.
"The Space Foundation extends its deepest sympathies to the family and friends of former NASA Astronaut and Apollo 15 Command Module pilot, Col. Al Worden, USAF (Ret.), who died on March 17, 2020.
"As another of the Apollo pioneers, Col. Worden embraced the risks and challenges of his day, serving his countrymen in military uniform and exploring our universe to help all of humanity better understand our place in it. At the Space Foundation, we were honored and privileged to host Col. Worden at the 35th Space Symposium (April 8-11, 2019) as we honored the 50th Anniversary of the first lunar landing and looked toward an even more ambitious space future. Col. Worden's friendship to us, and his example will help lead us into that positive future, and we are grateful for the life of impact he shared with us all."
About the Space Foundation
Founded in 1983, the Space Foundation is a 501(c)(3) nonprofit and the world's premier organization to inspire, educate, connect, and advocate on behalf of the global space community. It is a leader in space awareness activities, educational programs, and major industry events, including the annual Space Symposium. Space Foundation headquarters is in Colorado Springs, Colo., USA, and has a public Discovery Center, including El Pomar Space Gallery, Northrop Grumman Science Center featuring Science On a Sphere®, and the Lockheed Martin Space Education Center. The Space Foundation has a Washington, D.C., office, as well as field representatives in Houston and on the Florida Space Coast. It publishes The Space Report: The Authoritative Guide to Global Space Activity, and through its Space Certification™ and Space Technology Hall of Fame® programs, recognizes space-based innovations that have been adapted to improve life on Earth. Visit both websites — www.SpaceFoundation.org and DiscoverSpace.org — and follow us on Facebook, Twitter, Instagram, LinkedIn, and YouTube.
# # #
Space Foundation contact:
Carol Hively, Director – Public Relations & Team Communications
[email protected]
---
Posted in Space Foundation News