Uncategorized
---
Volunteer Spotlight: Lou Ramon
Written by: Space Foundation Editorial Team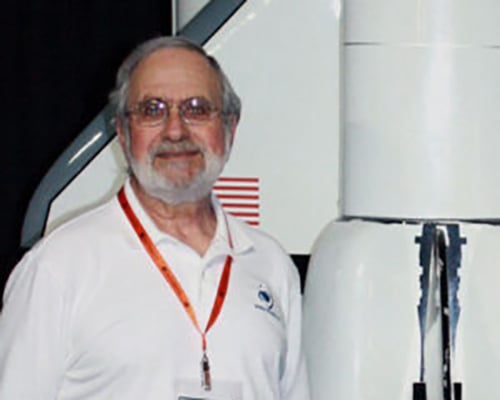 We could not do the work we do without the generous and tireless support of our volunteers, and these Volunteer Spotlight articles profile the interesting and dedicated people who make Space Foundation programs possible. This week, we are featuring Space Foundation Discovery Center volunteer Lou Ramon.
Lou has been a "space cadet" his entire life, turning his childhood passion for aircraft and science fiction into a lifelong career in the space industry. After earning a bachelor's degree in Aerospace Engineering from Cal Poly University in Pomona, Calif., Lou began a nearly 50-year career with NASA in and around the Johnson Space Center in Houston.
He has been involved in nearly every U.S. human spaceflight program including Gemini, Apollo, Skylab, Space Shuttle, the International Space Station, and more. Among the many highlights for him was working as a part of Apollo 11 alongside astronauts Neil Armstrong and Buzz Aldrin.
Lou began as a docent at the Discovery Center in the summer of 2013, and he volunteers because it offers him the opportunity to combine his interests in space and education. He receives a great deal of fulfillment from volunteering in the Discovery Center and encourages anyone who is interested in space to volunteer.
If you are interested in becoming a Space Foundation/Space Foundation Discovery Center volunteer, please reach out to Jennifer Walters, Volunteer Program Manager, at [email protected]
---
Posted in Uncategorized