Space Foundation News
---
Space Foundation Statement on the Passing of Gen. Thomas S. Moorman Jr., U.S. Air Force (retired)
Written by: Space Foundation Editorial Team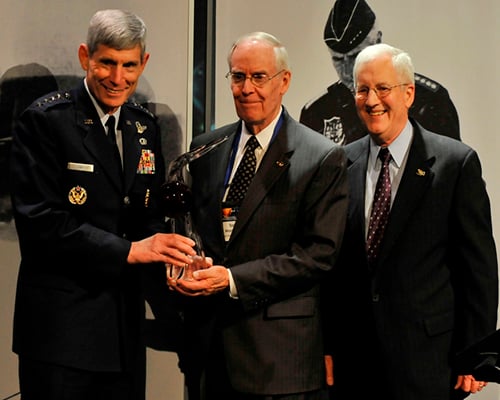 Gen. Thomas S. Moorman Jr. (center)
All of us at the Space Foundation are greatly saddened by the news of Gen. Moorman's passing. His lifetime of service to the nation was exceptional, visionary, and reached everyone in the space community. His military career was testament to being more than forward leaning — but rather being proactive in building foundations in the people, technologies, planning, and execution of challenging missions to secure America's national security leadership in space.
The Space Foundation had the distinct honor of benefitting from Gen. Moorman's leadership when he served as a member of our Board of Directors from 1997–2010 and when he led our organization as Board Chairman from 2008–2010. As Director Emeritus, Gen. Moorman continued his support of the Space Foundation by making it a point to visit our headquarters while in town for the annual Space Symposium to stay updated on our mission. In fact, one of the Space Foundation's conference rooms was dedicated to Gen. Moorman in 2012 and is decorated with memorabilia that he shared to be displayed. We are grateful to carry on his legacy as we continue to inspire new generations of
space leaders.
In reflecting on his relationship with Gen. Moorman, Space Foundation CEO Tom Zelibor recalled, "Any time there was a discussion about National Security Space, his name was always in the mix."
On a personal note, Zelibor added, "During my Navy career, Gen. Moorman mentored me as we navigated the DoD space world and built relationships to serve the warfighters of that day and those to come. Following my military career transition, I again had the pleasure of engaging with Gen. Moorman on new collaboration opportunities in the aerospace sector. Gen. Moorman always had a smile on his face, and anytime I was with him, he reminded me of that adage from the old EF Hutton commercial, … 'When he spoke, you listened.' He was a great American icon and will be
dearly missed."
At the 28th Space Symposium in 2012, the Space Foundation recognized Gen. Moorman's exceptional leadership and notable accomplishments with the presentation of the Gen. James E. Hill Lifetime Space Achievement Award. In presenting the Hill Award, the highest honor bestowed by the Space Foundation, then-Air Force Chief of Staff Gen. Norton Schwartz, called Gen. Moorman a "visionary" within the space community.
Throughout his accomplished career, Gen. Moorman served in a variety of intelligence and reconnaissance-related positions within the United States and worldwide. Those efforts included his deep involvement in the planning and organization of Air Force Space Command when it was first established in 1982.
Gen. Moorman's life and career were distinguished by exceptional national service, but the legacy he leaves within the space community is truly monumental. His metrics for collaboration and investment, as well as mission planning and execution helped secure this nation and its freedoms for future generations.
About Space Foundation
Founded in 1983, Space Foundation is a 501(c)(3) nonprofit and the world's premier organization to inspire, educate, connect, and advocate on behalf of the global space community. It is a leader in space awareness activities, educational programs, and major industry events, including the annual Space Symposium. Space Foundation headquarters is in Colorado Springs, Colo., USA, and has a public Discovery Center, including El Pomar Space Gallery, Northrop Grumman Science Center featuring Science On a Sphere®, and the Lockheed Martin Space Education Center. Space Foundation has a Washington, D.C., office, as well as field representatives in Houston and on the Florida Space Coast. It publishes The Space Report: The Authoritative Guide to Global Space Activity, and through its Space Certification™and Space Technology Hall of Fame® programs, recognizes space-based innovations that have been adapted to improve life on Earth. Visit both websites — www.SpaceFoundation.org and DiscoverSpace.org — and follow us on Facebook, Twitter, Instagram, LinkedIn, and YouTube.
# # #
Space Foundation contact:
[email protected]
---
Posted in Space Foundation News