Uncategorized
---
Volunteer Spotlight: Marissa Blum
Written by: Space Foundation Editorial Team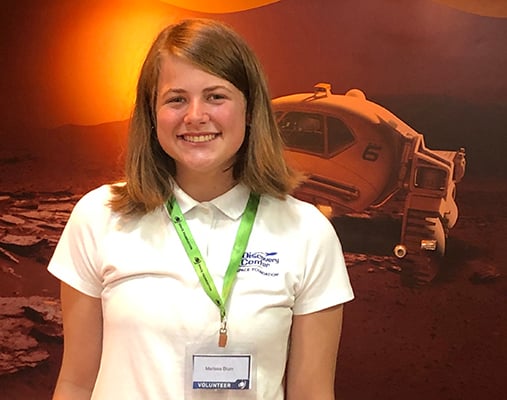 These Volunteer Spotlight articles profile some of the interesting and dedicated people who make Space Foundation programs possible. We could not do the work we do without the generous and tireless support of our volunteers. This week, we are featuring Space Foundation Discovery Center volunteer Marissa Blum.
Marissa was born in Chicago, Ill., and she currently lives in Colorado Springs where she's about to start her junior year at Air Academy High School. Her hobbies are primarily related to the performing arts — she acts, sings, and plays several instruments.
She is part of both the National Honor Society and the International Thespian Society. Although Marissa loves the performing arts, she also really enjoys STEM subjects, and she aspires to be an astrophysicist in the future.
Marissa is proud to be certified on both the Science On a Sphere® and Mars Robotics Laboratory features of the Discovery Center, and what fascinates her most about space are the objects in deep space, and the thought of living on a different planet.
If you are interested in becoming a Space Foundation/Space Foundation Discovery Center volunteer, please reach out to Jennifer Walters, Volunteer Program Manager, at [email protected]
---
Posted in Uncategorized