Space Foundation Press Releases
---
Space Foundation Accepting Applications for International Teacher Liaison Program
Written by: Space Foundation Editorial Team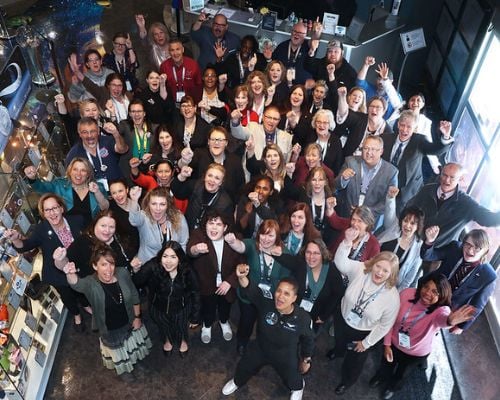 Application deadline is Sept. 30, 2022
Program has over 320 teachers from 18 different countries
Selectees will take part in the 38th Space Symposium in April 2023
COLORADO SPRINGS, Colo. — July 25, 2022 — Space Foundation, a nonprofit advocate organization founded in 1983 for the global space ecosystem, today announced that it is accepting applications for the organization's International Teacher Liaison program Flight 20-23 class now through Sept. 30, 2022.
Launched in 2004, this prestigious, internationally recognized program provides select educators from around the world with new skills, strategies and capabilities to improve their classroom and student engagement as they nurture the minds of tomorrow's world-changing adults.
Following an intensive application and evaluation process, a new Teacher Liaison class is announced each year. Upon selection, the new class of Teacher Liaisons is called a "Flight" to denote the teachers' mission as premier space and STEAM educators.
With more than 300 members located in 18 countries around the world and an annual reach numbering in the tens of thousands of students, Space Foundation International Teacher Liaisons actively collaborate by sharing best practices in their support of one another on their mission to shape the next generation of scientists, engineers, entrepreneurs and explorers.
"Teacher Liaisons are an integral branch of Space Foundation's Teacher Leadership Coalition (TLC) which provides training, resources and support for teachers around the world," said Dr. John West, Space Foundation's VP of Education. "Teacher Liaisons partner directly with Space Foundation to engage students, implement evidence-based teaching practices, and build their confidence and leadership in teaching STEAM concepts through the inspirational lens of space. Because of the unique contributions of Teacher Liaisons, the TLC program ultimately reaches tens of thousands of diverse students and facilitates their burgeoning presence and strong contribution in the STEAM workforce."
Commenting on the importance of the International Teacher Liaison program, member of Teacher Liaison Flight 19-22 Nonofo Angela Mogopodi of Botswana said, "Space education is almost non-existent in my country, so this opportunity will help pave the way for the upcoming generation."
The program is open to public, private and homeschool teachers in both informal and formal education. School administrators, principals, specialists, curriculum and instruction developers, as well as others who deliver educational programs to students are also welcomed and encouraged to apply. If chosen for the program, teachers receive Space Foundation training and resources to further integrate space content into their classrooms.
The new flight of Teacher Liaisons will be recognized at Space Foundation's 38th Space Symposium, to be held April 17-20, 2023, at The Broadmoor in Colorado Springs. In addition to the recognition activities, Teacher Liaisons will participate in special programming at the Symposium via a hybrid in-person and virtual delivery format.
Applications for the International Teacher Liaison program are now being accepted at www.discoverspace.org/education/for-educators/teacher-liaisons/. All submissions are due by Sept. 30, 2022.
About International Teacher Liaison Program
Teacher Liaisons, established in 2004 by Space Foundation and operating under Center for Innovation and Education, is a professional network for an elite group of educators around the world. More than 300 Teacher Liaisons advocate for space education using STEM, non-STEM, and 21st century business and life skills to inspire the next generation of contributors to the global space ecosystem. Space Foundation provides live and virtual training, innovative materials, standards-based lesson plans, and mentoring resources. Teacher Liaisons are selected annually following a formal application process. For more information, please visit www.discoverspace.org/education/resources-for-educators/teacher-liaisons.
About Center for Innovation and Education
Center for Innovation and Education, a division of Space Foundation, is a lifelong learning provider for the global space ecosystem that offers workforce development and economic opportunity for pre-K-12 and university students, teachers, entrepreneurs, businesses and space professionals. Programs and resources are delivered in person or virtually around the globe. Through its Workforce Development Roadmap of programs and resources, Center for Innovation and Education enhances the outlook and opportunities for careers, jobs and business ventures. To learn more about Center for Innovation and Education, please visit www.spacefoundation.org/cie, and visit www.discoverspace.org to learn more about Space Foundation Discovery Center.
About Space Foundation
Space Foundation is a nonprofit advocate organization founded in 1983, offering a gateway to information, education and collaboration for space exploration and space-to-Earth industries that define the global space ecosystem. Driven by a partnership model, Space Foundation operates three divisions that unite the entire spectrum of stakeholders — business, government, education and local communities — through support from corporate membership, sponsorship, fundraising and grants. Symposium 365 is the premier source for media and events, including Space Symposium and The Space Report. Center for Innovation and Education is a lifelong learning provider. Global Alliance facilitates collaboration around the world. Visit Space Foundation at www.SpaceFoundation.org, and follow us on LinkedIn, Facebook, Instagram, Twitter and YouTube.
###
All brand names and product names are trademarks or registered trademarks of their respective companies.
Tags: Space Foundation, Center for Innovation and Education, International Teacher Liaison program, STEM education, workforce development, professional development, lifelong learning, STEM, educators, teachers, space technology, space ecosystem, lifelong learning
Media Contacts:
Rich Cooper
Vice President, Strategic Communications & Outreach
Space Foundation
(202) 596-0714
[email protected]
Dottie O'Rourke
TECHMarket Communications
(650) 344-1260
[email protected]
---
Posted in Space Foundation Press Releases