Space Foundation News
---
Two Space Foundation Design Projects Win 2012 Silver Summit Creative Awards
Written by: developer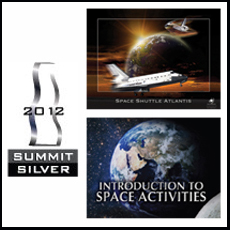 Two Space Foundation projects, created in conjunction with Colorado Springs-based Crystal Peak Design, have been honored with 2012 Silver Summit Creative Awards. The winning designs are Introduction to Space Activities, a print and online brochure used to educate policymakers about the fundamentals of space and space policy, and a series of original designs commemorating each of the six Space Shuttles. The Space Foundation markets posters, postcards and art prints featuring the Space Shuttle designs to support our education programs.
The Summit International Awards (SIA), based in Portland, Ore., administers three distinguished award competitions throughout the year to encourage companies and individuals with creative and marketing talent to "go beyond the ordinary." The SIA is the oldest and most prestigious organization conducting an award exclusively for small- and medium-sized creative firms that are often overshadowed by large agencies in media competitions. The SIA attracts entrants from than 50 countries across five continents and uses stringent evaluation criteria and blind judging processes by experts in the advertising field. The judges came from Australia, Canada, China, Italy, Kazakhstan, Kuwait and the United States.
Crystal Peak Design is an accomplished and nationally known design and advertising agency. Space Foundation Director – Marketing and Creative Services Nancy Reed was the lead on both the winning projects.
---
Posted in Space Foundation News