Space Foundation Press Releases
---
Space Foundation President Chuck Zimkas to Retire
Written by: developer
COLORADO SPRINGS, Colo. (June 26, 2013) – After a distinguished 27-year career with the Space Foundation, Charles P. "Chuck" Zimkas, Jr., President, will retire July 1. Zimkas has been president since 2012. He has played a key role in the continued success of the annual Space Symposium, and, in recent years, in the relocation of the Space Foundation to its world headquarters on Arrowswest Drive, and the creation of the Space Foundation Discovery Center.
"It's nearly impossible to imagine the Space Foundation without Chuck," said Space Foundation Chief Executive Officer Elliot Pulham. "He has been a constant and consistent leader for us through the years and has inspired loyalty and professionalism throughout our organization. Both he, and his wife Ursula, have been tireless volunteers and advocates for the Space Foundation."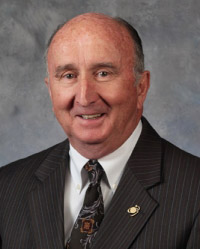 About Zimkas
Zimkas has been with the Space Foundation since 1986, longer than any other team member. He was promoted to president from chief operating officer in 2012. Previously, he served for 26 years in the U.S. Air Force, during which he was selected as one of the Twelve Outstanding Airmen of the Year for the United States Air Force, as senior enlisted advisor for NORAD and as the first Air Force Space Command senior enlisted advisor. After Zimkas' Air Force retirement, Air Force Space Command dedicated its Enlisted Heritage Room in his honor.
Zimkas is active in national, regional and community activities, including serving as a member of the Rocky Mountain Chapter of National Defense Industrial Association (NDIA), the Lance P. Sijan Chapter of the Air Force Association (AFA) and as vice president of the Arrowswest Owners Association Board. He is an Emeritus Member of the AFA National Board of Directors.
Space Library Established Honoring Chuck and Ursula Zimkas
In announcing Zimkas' retirement, the Space Foundation also announced the establishment of the Zimkas Space Library. The new reference library at Space Foundation world headquarters will serve students, teachers, tutors, book clubs and space-related interest groups.
Donations to the Zimkas Space Library may be made by contacting [email protected], or by visiting www.spacefoundation.org/donate.
About the Space Foundation
The foremost advocate for all sectors of the space industry and an expert in all aspects of space, the Space Foundation is a global, nonprofit leader in space awareness activities, educational programs that bring space into the classroom and major industry events, including the annual Space Symposium, all in support of its mission "to advance space-related endeavors to inspire, enable and propel humanity." The Space Foundation publishes The Space Report: The Authoritative Guide to Global Space Activity and provides three indexes that track daily U.S. stock market performance of the space industry. Through its Space Certification™ and Space Technology Hall of Fame® programs, the Space Foundation recognizes space-based technologies and innovations that have been adapted to improve life on Earth. The Space Foundation was founded in 1983 and is based in Colorado Springs, Colo. Its world headquarters features a public Discovery Center with two main areas – the El Pomar Space Gallery and the Northrop Grumman Science Center featuring Science On a Sphere®. The Space Foundation also conducts research and analysis and government affairs activities from its Washington, D.C., office and has a field office in Houston, Texas. For more information, visit www.SpaceFoundation.org. Follow us on Facebook, LinkedIn and Twitter, and read about the latest space news and Space Foundation activities in Space Watch.
---
Posted in Space Foundation Press Releases