New Generation Initiatives
---
Space Foundation Supports United Launch Alliance and Ball Aerospace Interns' Record-setting Launch
Written by: developer
On July 24, a 50-feet-tall high-power sport rocket carried payloads thousands of feet above Fort Carson Army Post, the largest sport rocket to launch anywhere in the world. This student rocket launch carried payloads weighing in at more than 1,200 pounds and generating 6,600 pounds of thrust off the launch pad. The event also included launch of a 10-feet-tall "Genesis" rocket, and was sponsored by United Launch Alliance (ULA), Ball Aerospace & Technologies Corp. and the Space Foundation.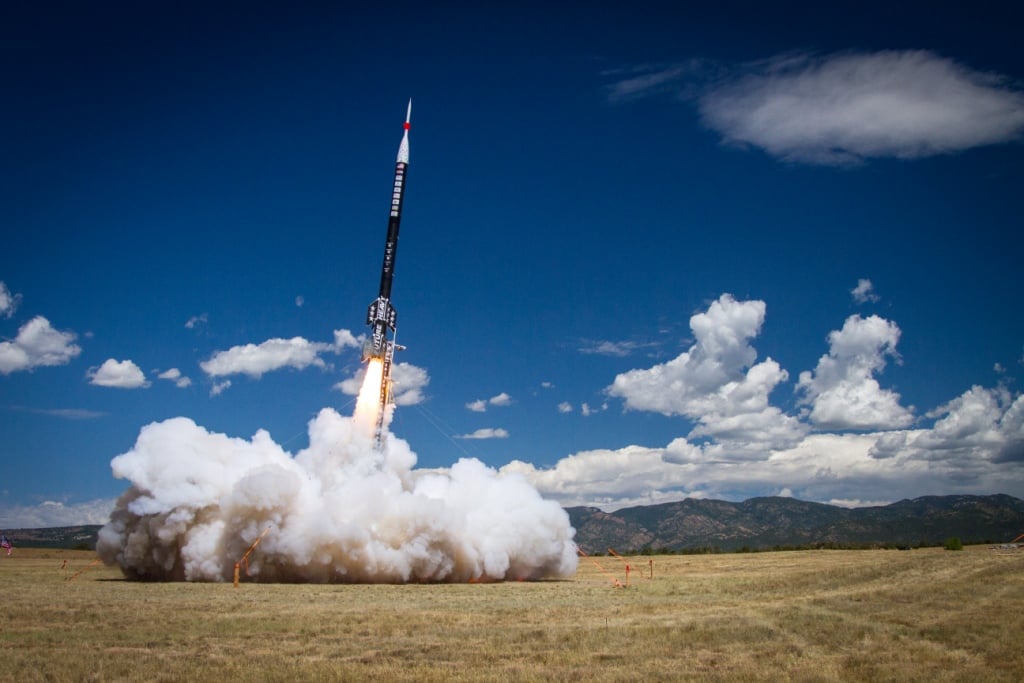 Working on their own time, the ULA and Ball interns designed, built and tested the rockets and payloads, with the guidance of mentors from both companies. Altogether, 68 interns and 22 mentors from ULA, and 37 interns and 19 mentors from Ball, participated in the project. The Ball interns, collectively known as BIRST (Ball Intern Rocket Science Team), designed, built and tested the four largest payloads, and K-12 students from Colorado created additional science experiment payloads. The Space Foundation offered students the opportunity to launch their own rockets before the big launch.
This year's concepts included search and rescue missions via unmanned aerial vehicles, deploying an off-road vehicle and an LED light show.
ULA president and CEO Tory Bruno said in a press release issued the day of the launch, "It is an exciting time to be in the space industry, and United Launch Alliance continuously works to excite the next generation of rocket scientists, astronauts, space entrepreneurs and enthusiasts. The Student Rocket Launch offers students from kindergarten through graduate school a hands-on opportunity to design, test and ultimately launch their creations — a simulation of the multi-year missions ULA works with our customers."
Robert D. Strain, President of Ball Aerospace & Technologies Corp., was also quoted in the release. "This program provides Ball and ULA interns a collaborative real-world aerospace industry experience, from concept to launch in just a few short weeks," he said. "This launch is the culmination of efforts, from our high-caliber interns and employee mentors, to the K-12 teams with sponsorship from the Space Foundation. It really demonstrates that Colorado is an exciting place for aerospace today and for future generations."

This article is part of Space Watch: August 2016 (Volume: 15, Issue: 8).
---
Posted in New Generation Initiatives