Space Awareness
---
Space on the Field, in the Air and on the Ground
Written by: developer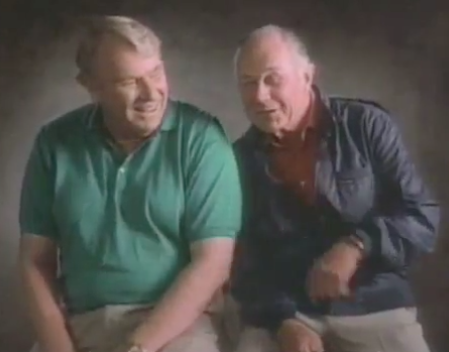 John Madden, today a name most recognized with Madden NFL video games, was previously well-known for his football career -- playing, coaching and as a color commentator.
Madden also has a well-known fear of flying. In this Space Foundation PSA from the early 1980's, this "ground lover" chats with the first man to break the sound barrier, Gen. Chuck Yeager. The PSAs were created to publicize the Space Foundation's Space Technology Hall of Fame, now approaching its 30th year in 2017.
In the PSA, Madden and Yeager discuss search and rescue satellites and the worldwide emergency network. These satellites assist those in peril, whether it be from a disaster at sea, to one in the air. An emergency signal from those in distress is sent to the satellite, which relays the location to rescuers. Twenty-five years later, this same technology, and advanced versions, are saving lives every day, on the football field, in the air and situations of natural disasters. Watch the PSA video here.
On the Field
The helmets worn in the NFL are packed full of space technology. The outer shell of the helmet is made of Lexan. NASA began using LEXAN in the early 1960's for astronaut helmets and visors, due to its strength. The material cannot be penetrated by space debris, or the opposing team.
The interior of the helmet is made of Tempur Foam, best known to the general public as memory foam. This foam was developed by NASA as way to relieve the pressure from the G-forces astronauts experienced during liftoff. The shock-resistant nature of the material makes it ideal to protect players on the field from head injuries.
In the Sky
Other space tech used in the sky is NASA's Digital Fly-by-Wire. In the late 1960's, NASA Flight Research Center (now Dryden) engineers began work to replace mechanical flight-control with digital fly-by-wire technology. Support came from Neil Armstrong, who backed the transfer of a U.S. Navy F-8C Crusader to NASA, which became the F-8 Digital Fly-By-Wire (DFBW) research aircraft. Proven performance and solid cooperation between NASA and industry translated into use of DFBW systems in new aircraft design in a remarkably short time.
Today, DFBW-equipped aircraft maintain constant speed and altitude over long distances to increase fuel efficiency. The elimination of bulky hydraulics, cables, rods and pulleys allows for increased payload and greater range. The electronic systems require less maintenance and improved reliability with fewer mechanical parts to fail. These systems are also easier to install and troubleshoot which make assembly and maintenance more efficient.
Natural Disasters
Along with the search and rescue satellites discussed in the PSA, space technology assists in several other commercial products used in the aid of natural disasters.
DLR and the private firm IQ Wireless took technology developed by DLR to analyze gases and particles in space and created a terrestrial detection tool known as FireWatch that uses high-resolution optical sensors installed on towers or masts that connect to a remote central office to monitor forests and detect potential fires.
With sensors that can distinguish between more than 16,000 scales of grey, the system can spot developing fires in virtually any weather, day or night, resulting in a detection rate of more than 90 percent.
Another technology designed for space that is used to assist in natural disasters is the GATR, Ground Antenna Transmit and Receive Technology. The GATR Communication System is a portable, rapidly deployed, inflatable antenna that targets a geostationary satellite to establish critical communications for any mission scenario. GATR Technologies has voluntarily supported relief efforts for Hurricanes Ike, and Katrina, the 2011 Alabama tornadoes, southern California wildfires, the Haiti earthquake and medical clinics in Africa, and Central and South America.
This article is part of Space Watch: October 2016 (Volume: 15, Issue: 10).
---
Posted in Space Awareness