Education
---
Space Foundation is Teaching Hands-on STEM Activities to Educators in Maryland
Written by: Space Foundation Editorial Team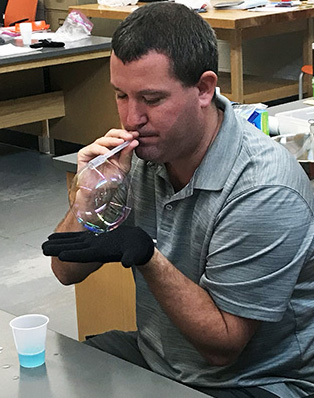 For the 13th summer, the Space Foundation is conducting teacher professional development for educators in Charles County (Md.) Public Schools. The week-long Space Across the Curriculum program is being held at the district's James E. Richmond Science Center in Charles County and includes a public community night with featured speaker former NASA astronaut Duane "Digger" Carey.
Each summer, the Space Foundation spends one week conducting educator training for Charles County Public Schools. Teachers face many challenges in developing lesson plans that engage students, meet district and state standards and are fun and rewarding to deliver. Space Across the Curriculum helps educators take a fresh approach to their existing curriculum by introducing hands-on space-themed activities that get students excited and engaged in learning.
As its name indicates, Space Across the Curriculum instruction is adaptable for various curricula and grade levels. The Space Foundation places a great deal of emphasis on delivering professional development to educators with programs that meet education standards by integrating science, technology, engineering, art and mathematics (STEAM) into daily curriculum. The courses use space as the "hook" to engage students and provide activities that are instantly transferable to the classroom, such as the bubble activity pictured, which helps small children learn the difference between gas planets and rock planets.
Click here to learn more about Space Foundation education programs and professional development for educators.
---
Posted in Education