Space Foundation News
---
Teacher Liaisons Experience Shuttle Launch and Kennedy Space Center
Written by: Space Foundation Editorial Team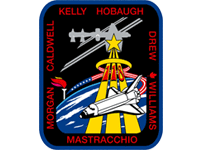 COLORADO SPRINGS, Colo. (Aug. 7, 2007) — At the special invitation of NASA, more than a dozen Space Foundation Teacher Liaisons, including Kathy Brandon, 2006 recipient of the Alan Shepard Technology in Education Award, are in Florida for the launch of the Space Shuttle Endeavour on mission STS-118. In addition to viewing the launch, the teachers participated in a special tour of Kennedy Space Center and Cape Canaveral Air Force Station.  
The experience began with a day-long tour and an informative question and answer session led by NASA Associate Administrator for Space Operations Bill Gerstenmaier, who spoke about the STS-118 mission and the next generation of launch vehicles currently in development. Following the question and answer session, former astronaut, Carl Walz served as guide on a tour that included the Space Shuttle Processing Facility, Orbiter Processing Facility, and much more. The participating educators also visited Cape Canaveral Air Force Station where they saw the solid rocket booster retrieval ships, Range Operations Control Center, the Delta and Atlas Launch Pads, the historic launch pad of John Glenn's first flight, and many other noteworthy sites.

On August 8, the teachers viewed the launch of the Space Shuttle Endeavour on a mission to the International Space Station.  This marks the first flight of Endeavour since 2002 and the inaugural flight of Barbara Morgan,  a teacher who was originally selected at Christa McAuliffe's back-up for NASA's teacher in space program over 20 years ago.
---
Posted in Space Foundation News