Space Foundation News
---
The Evolution of Operationally Responsive Space – Hot Topic at Strategic Space and Defense 2007
Written by: Space Foundation Editorial Team
COLORADO SPRINGS, Colo.(Sep. 20, 2007) — The status and evolution of the concept of operationally responsive space (ORS) will be the focus of a panel at Strategic Space and Defense 2007.  "ORS – The Evolution of a Capability," will discuss the impact of recent developments such as the establishment of an ORS office as well as the definition of this often debated subject. Presented by the Space Foundation and Space News, Strategic Space and Defense 2007, the global security conference for space and defense professionals, will take place at the QwestCenterOmahaConvention Center and Arena in Omaha, Neb., 9 – 11 October 2007.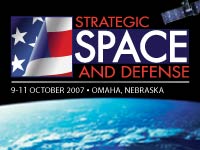 This critical panel discussion is scheduled to take place on Wednesday, 10 October at 1400 hrs.  Participants include moderator Mr. Josh Hartman, senior advisor to the under secretary of defense (acquisition, technology and logistics), Office of the Secretary of Defense; and panelists Col. Kevin McLaughlin, USAF, commander, Space and Missile Systems Center, Space Development and Test Wing; and Mr. Joseph Rouge, Associate Director, National Security Space Office.
Additionally, Strategic Space and Defense 2007 will feature a stellar program consisting of leaders in the space and defense industries.  This unique conference attracts the senior leadership of U.S. Strategic Command (USSTRATCOM), its component and supported commands, representatives of the national security industrial base, major government contractors, federal officials, and allied partners; and includes two full days of featured speakers and panel sessions, luncheons, a sophisticated exhibit center, and more.
Other highlights of Strategic Space and Defense 2007 include a spectacular Opening Ceremony and Reception, featuring legendary music icons THREE DOG NIGHT and welcoming remarks by Nebraska Governor Dave Heineman, co-sponsored by Lockheed Martin and the Greater Omaha Chamber of Commerce; the Strategic Space and Defense luncheon, co-sponsored by Northrop Grumman; and the Thursday luncheon, co-sponsored by Boeing.  Additional co-sponsors include AirLaunch LLC, a.i. Solutions, ATK, Axiom Worldwide, Booz Allen Hamilton, the Bellevue Chamber of Commerce, Computer Sciences Corporation (CSC), Raytheon Company, SES Americom, and Sterling Computers Corp. – A Sun Partner Advantage Company.
Additional information speakers and panelists are confirming daily.  For an updated agenda, list of speakers, and additional information and tools including secure online registration, and lists of exhibitors sponsors visit www.StratSpace.org.
---
Posted in Space Foundation News